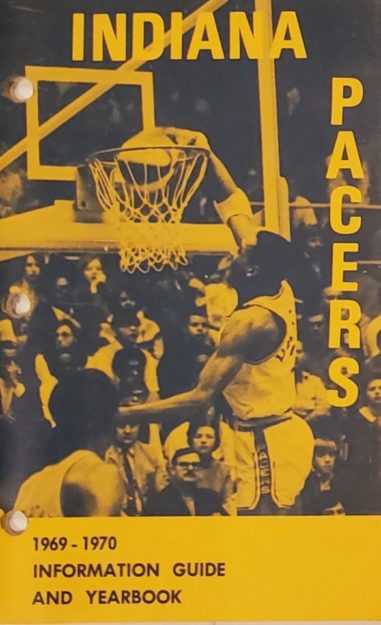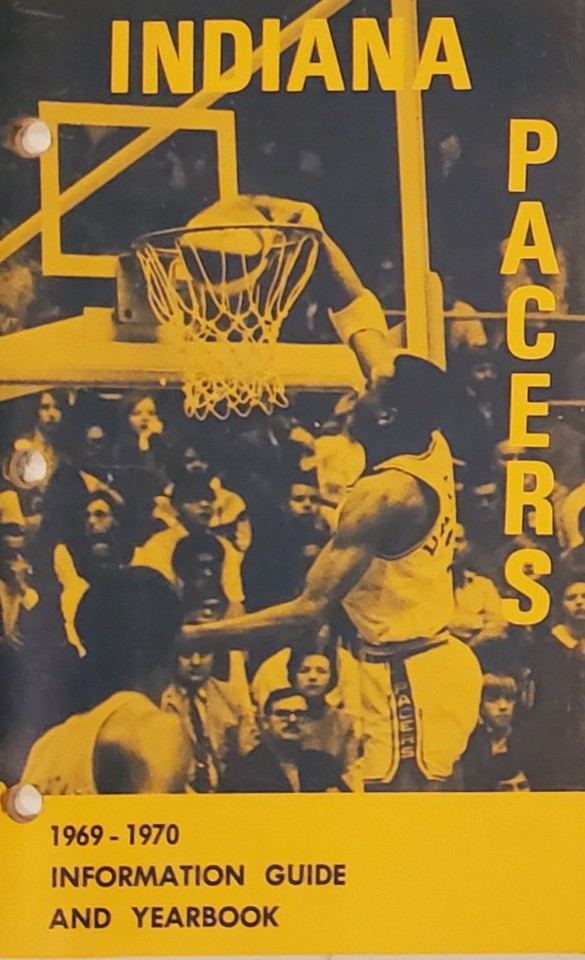 April 18 marks the 50th anniversary of the beginning of the Pacers' quest for their first ABA championship. In recognition of that historic event in franchise history, I will provide a game-by-game account of their postseason run on the exact anniversary of each game by drawing information from newspaper coverage of the day and supplementing it with a modern perspective.
The Pacers had dominated the regular season, finishing with a 59-25 record that was by far the best in the league and remains the second-highest win total in franchise history – although it's worth mentioning the ABA schedule that season consisted of 84 games, rather than the current 82. They were 52-17 at one point, then finished 7-8 after they had the top seed locked up. Five of those losses were by double figures, including a 26-point loss at Dallas.
The ABA was an 11-team league that season, so the playoffs consisted of just three rounds. The Pacers breezed through the first two with just one loss, so there was a week-long gap between each round. Be patient, please. I'll try to fill the space with stories that provide insight and background to that season's playoff experience as the days go by.
The Pacers' starting lineup in the playoffs consisted of Roger Brown and Bob Netolicky at forward, Mel Daniels at center and Freddie Lewis and John Barnhill at guard. Rookie Bill Keller was a regular off the bench as was forward Art Becker.
It was a heady time for the Pacers . They had established themselves in the community the previous season with a late-season push to the league finals and were the ABA's most popular attraction. Reports of serious negotiations for a merger with the NBA were running in the newspapers, efforts were underway to build a new and bigger arena to contain the city's love for the team and Purdue All-American Rick Mount had already signed for the following season.
It was a special time in the city's history, too. The franchise was in just its third season, the fan base was not yet jaded, and hope for even better times ahead reigned above all.
(All photos are from the game described.)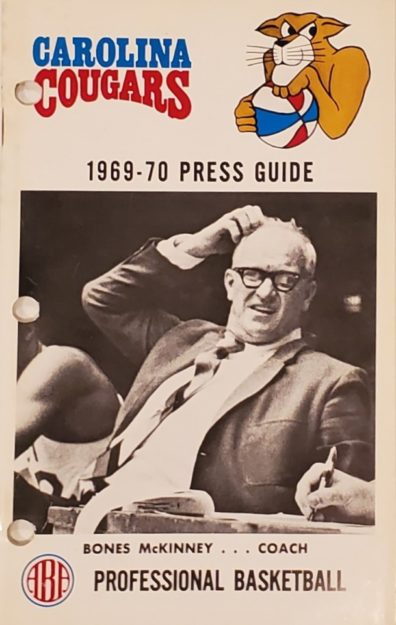 Round One: Pacers vs. Carolina
Game 1
April 18, 1970
Fairgrounds Coliseum
Brown proves himself a money player
While it's common today for nostalgic older fans to believe the players of long ago played professional basketball "for the love of the game," that's a blatant falsehood. They played for money, too, and it was every bit as important to them as it is for today's players, quantity differences aside.
Nobody ever made that point clearer than Roger Brown, who led the Pacers to a 123-105 victory in the opening game of their first-round playoff series with the Carolina Cougars. Brown scored 26 points, grabbed 14 rebounds, passed out seven assists and defended Cougars forward Doug Moe into a woeful shooting performance, giving the first hint of the historic postseason that awaited him.
"Money, money, money is what fires me up," Brown told Indianapolis Star reporter Robin Miller after the game. "And after all, it's playoff time and I'm hungry."
Brown, who hit 10-of-15 shots, held Moe to 6-of-19 shooting. Moe finished with 16 points but scored just four in the first half and had most of his success in garbage time.
Brown's performance was so complete that Star beat writer Dave Overpeck gushed  over it in his game story:
"They should have taken movies of Brown yesterday. They could be used at any clinic in the country on how to play forward. All the speaker would have to say is, 'Watch this guy. That's what it's all about.'
"Brown was simply magnificent. You won't see a finer game of basketball played anyplace by anybody. … When the Pacers wanted a bucket they cleared the floor for Roger. He got the basket or he went to the line for two. It was a matchless performance."
Nobody knew it at the time, but it was only the beginning.
Brown's performance overshadowed that of the other starters, all of whom scored in double figures. That was particularly true of guard Freddie Lewis, whose entire career with the Pacers was overshadowed by future Hall of Fame players. Lewis played exceptionally well, scoring 29 points on 12-of-20 shooting and limiting Cougars guard Bob Verga – who averaged 27.5 points during the regular season - to 19 on 9-of-23 shooting.
Lewis' performance went relatively unnoticed amid all the fuss made over Brown, although not by Brown. "I wasn't the person who put it away – it was definitely Freddie," Brown said in the postgame locker room.
The game was representative of ABA basketball at the time for its extracurricular activities. Lewis' aggressive defense of Verga nearly incited Verga and Carolina forward Hank Whitney into a fight. And, toward the end of the game, Pacers coach Bob "Slick" Leonard walked all the way down to the Cougars' bench while the game was ongoing in an apparent act of intimidation.
When Cougars coach Bones McKinney jumped up and protested to referee Norm Drucker, Drucker said, "Hey, Bobby, get back there."
"OK, Normy," Leonard said calmly and returned to his bench.
The biggest curiosity of the game, however, might have been the meager attendance. It was listed officially as 6,123 but Overpeck reported "at least 1,000 came disguised as empty seats."
The afternoon start time (2:10) might have had something to do with the attendance. A greater factor, though, was the competition from the game played across town later that evening at Hinkle Fieldhouse, where college all-star teams from Indiana and Ohio were meeting in an annual event sponsored by the Sertoma charity. Purdue All-American Rick Mount, who already was under contract to play for the Pacers next season and was wearing the black low-cut shoes they favored at the time, was the featured attraction and the primary reason 10,622 fans showed up for the game.
Mount didn't disappoint. Having scored 45 points while hitting seven three-pointers the previous night in Columbus, Ohio, he scored 41 points in this one, a 109-106 victory for the Indiana team.
Just one more reason for Pacers fans to be excited.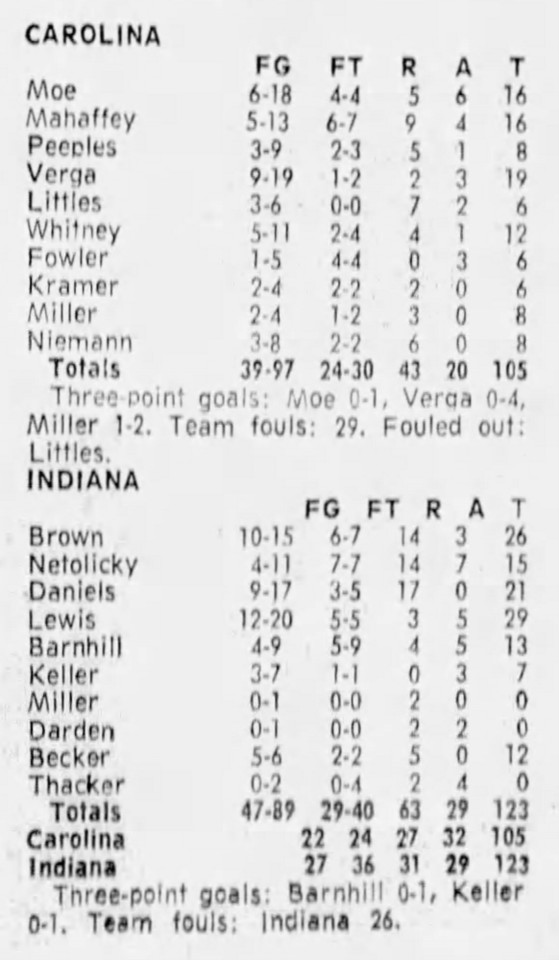 ***
Game 2
April 19, 1970
Fairgrounds Coliseum
Pacers take 2-0 lead on 'Whitney Cougars'   
The Pacers have played back-to-back games in an NBA playoff series just twice, and not since the 1997-98 season when they played Saturday and Sunday games in New York. But in the anything-goes ABA, it was common to play on consecutive days.
Thus, 24 hours after winning Game 1 of their first-round series with Carolina the Pacers were back in the Fairgrounds Coliseum for a Sunday afternoon rematch. The quick turnaround didn't seem to bother them too much in their 103-98 victory, although it apparently discombobulated Cougars forward Hank Whitney.
Freddie Lewis led the scoring once again, this time with 29 points.
Bob Netolicky had 21 points and 18 rebounds and played what Star sportswriter Dave Overpeck called "the best defensive game in his life." Netolicky, as Brown had done following Game 1, revealed the nature of his motivation afterward.
"I'm turned on because it's money time," he said.
Mel Daniels added 23 points and 21 rebounds - or, as they were often called in those days, "caroms." Roger Brown played what would turn out to be his worst game of the postseason with 13 points on 4-of-13 shooting and eight rebounds.
John Barnhill, a 31-year-old veteran of seven NBA seasons who was in his first with the Pacers, went scoreless in 23 minutes, missing all six of his field goal attempts, but rookie Billy Keller came off the bench to score 12 points in 24 minutes. The Indianapolis Washington High School and Purdue graduate had the fans "storming and whooping" according to the Star's account, particularly in the second quarter when he had three steals, two assists and a three-point play after drawing a foul on a breakaway layup, all in a span of 1 minute, 56 seconds.
The Pacers also got a crucial contribution from Oliver Darden, a backup forward. Darden was an original Pacer and a starter in their inaugural season two years earlier. He had surprisingly been traded to New York before the previous season and had finished that one and begun this one with Kentucky. The Pacers had acquired him a month before the playoffs began, and he did exactly what he was acquired to do in this game by scoring four points in six minutes after Daniels had fouled out. His second basket, from about 15 feet, provided a 98-97 lead and began a 6-0 run that clinched the outcome.
The Charlotte Observer reporter who covered the game, Frank Barrows, made Darden the central figure in his story. The headline for it read, "Sub Darden Stops Cougars."
Darden's motivation?
"I've made it back just in time to collect my check for winning the ABA title," he told Barrows.
(Both Barrows and Darden would have notable careers after this playoff series. Barrows would go on to become the Observer's Managing Editor. He died in 2019, a highly-regarded journalist. Darden wound up earning plenty of money by operating several Burger King franchises before retiring to Florida, where he lives today.)
The Pacers took a while to regenerate after Saturday's victory, hitting just 16-of-51 shots in the first half, but came back to make 21-of-39 in the second. They could get away with their bad shooting because Carolina was even worse, partly because of the Pacers' defense. Four of Carolina's starters – Doug Moe, Randy Mahaffey, ex-Pacer George Peeples and Gene Littles – combined to make 11-of-42 shots. There's only so much one man can do to make up for that kind of inaccuracy, and Bob Verga's 35 points on 14-of-28 shooting weren't enough.
Verga – who played in the all-star game earlier in the season - apparently earned what he got. Robin Miller's account in the Star claimed Lewis, who was hobbled by a bruised hip, "trailed Verga like a Pinkerton man." Lewis did, however, succeed in forcing an air ball on Verga's three-point attempt with 1:04 left when the Cougars trailed by just three points.
"Verga had an exceptional shooting day," Lewis said. "And I know Carolina will be tough at home. But we'll just keep the pressure on and see what happens."
Carolina also got a standout game from Whitney, its backup forward. He scored 20 points on 9-of-14 shooting and grabbed a team-high 11 rebounds in 21 minutes, which proved he wasn't bothered a bit by the fact he had put his jersey on backward, a moment preserved for history by a photo (below) that ran in the Star. Overpeck referred to him in his story as "Hank Carolina of the Whitney Cougars."
The other curiosity was that, once again, the local fans didn't show much enthusiasm for the game. The announced attendance was just 6,341, barely more than in Game 1 the previous day. There was no excuse of Rick Mount playing across town this time and the game wasn't televised either locally or nationally, so it can only be assumed an increasingly spoiled fan base was awaiting bigger games before committing money to the cause.
And bigger games would come.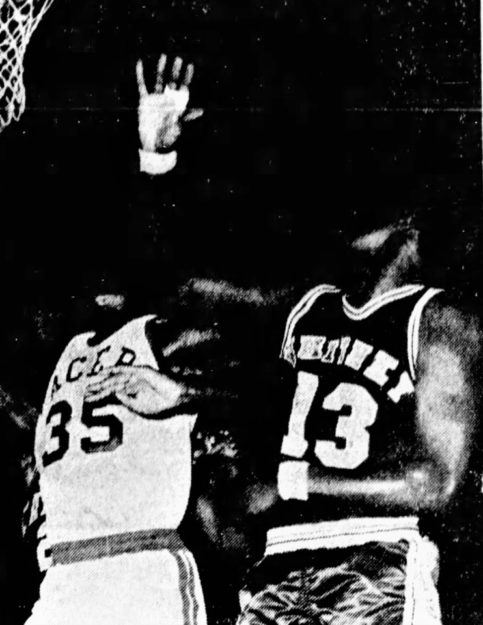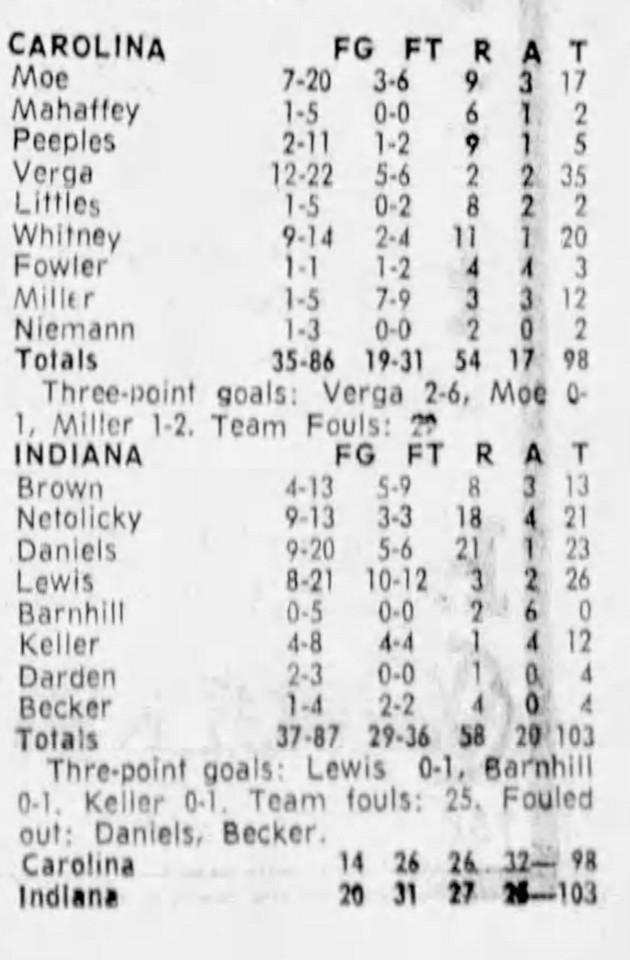 ***
Game 3
April 22, 1970
Charlotte Coliseum
Barnhill goes from 0 to 25, Pacers lead 3-0
The problem with the Pacers this season, from the perspective of opponents, is that they have too many weapons to contain. While the frontline of Mel Daniels, Roger Brown and Bob Netolicky and guard Freddie Lewis all have played in the all-star games and provide a surplus of threats, they had help.
John Barnhill proved that by following up his scoreless outing in Game 2 to lead the Pacers to a 115-106 victory over Carolina in Game 3 in Charlotte. The Cougars focused their defense on the more obvious dangers, figuring Barnhill wouldn't hurt them. It was a valid strategy, given he had averaged 11.4 points on 39 percent shooting during the regular season, including just 29 percent from the three-point line. He lacked a jump shot, scoring mostly on high-arching scoop shots in the lane and one-handed push shots from the perimeter.
But wouldn't you know it, he matched his second-highest point total of the season with 25 points in this one, hitting 11-of-19 shots. The other four starters scored in neatly descending order: Lewis with 20, Daniels with 19, Netolicky with 18 and Brown with 17 (along with 10 rebounds and six assists).
The Pacers shot poorly most of the game and trailed by seven points with 10 minutes remaining, but proceeded to outscore Carolina 38-24 in the fourth quarter. The only positive development for the Cougars was that only 3,381 fans witnessed it.
Coach Bones McKinney wished he hadn't been among them. He spoke briefly with reporters afterward and then said, "I'd say more, but I'm too disgusted to talk."
Well, not quite. Asked if he thought his team would come back and compete in Game 4 two nights later when the series resumed in Raleigh, McKinney said, "We may not play Friday, but we're sure going to practice tomorrow … in full gear and full tape. We'll go until somebody pukes."
Notified of that plan, Barnhill had just one wish.
"I hope he doesn't work them too hard," he said. "I want somebody left to beat Friday."
This game turned out to be the most meaningful of Barnhill's career with the Pacers, which consisted of this season and two partial seasons that followed. Although not much of a scorer and past his prime, he was highly regarded by teammates, rookie Bill Keller foremost among them.
Keller said in later years that Barnhill had not been resentful of him taking the veteran's playing time, and Barnhill in fact had taken Keller under his wing, teaching him the scoop shot among other point guard things.
Barnhill died in November of 2013 at age 75.
"Johnny was a good team man, a good defensive player and a nice guy," coach Slick Leonard said then.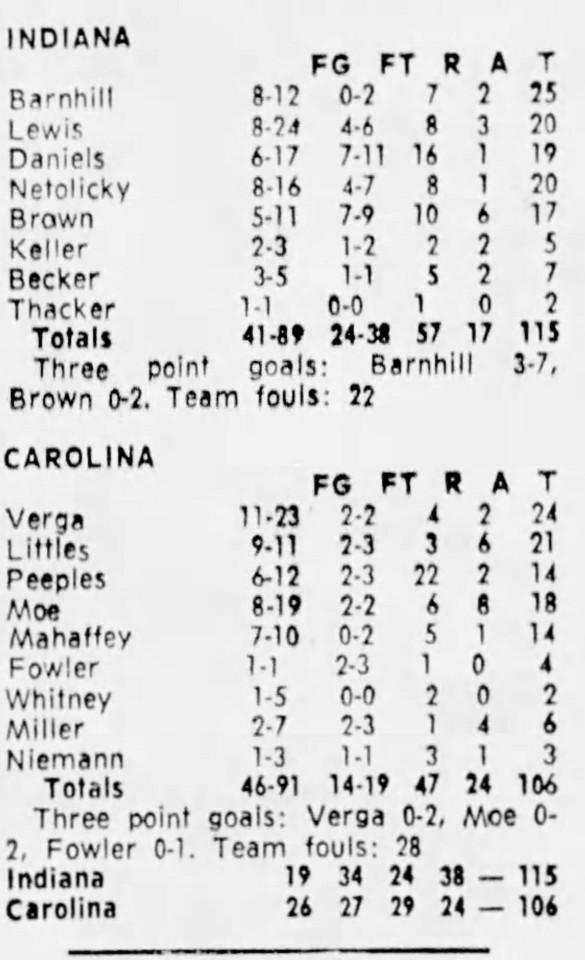 Game 4
April 24, 1970
Reynolds Coliseum (Raleigh)
Lewis leads series sweep over misplaced Cougars
Freddie Lewis scored 31 points to lead the Pacers' Game 4 110-106 victory that swept Carolina out of the playoffs and gave themselves a week off before resuming play in the second round. His points came in both quantity and quality, as he scored their final six points of the game to break away from a tie at 104.
Bob Netolicky scored 30 points, Roger Brown 23 and Mel Daniels 12 (with 15 rebounds) but nobody had any doubts about who manned the broom.
"He was the difference," Cougars coach Bones McKinney said of Lewis. "We tried to play defense against him after the first half of the second game, but he kept hurting us."
"He was the key to the whole thing," Cougars forward Doug Moe added.
The game was tied at 104 with less than a minute to play, but Carolina's all-star guard Bob Verga chose to attempt a well-defended layup rather than pass off on a 3-of-1 fastbreak. He missed and John Barnhill grabbed the rebound and flipped a pass to Lewis, who hit a jumper to give the Pacers the lead.
From where the shot came, we can't be sure. The game's biggest basket was described as a 10-footer by Dave Overpeck in the Indianapolis Star, a 15-footer by Dick Denny in the Indianapolis News and an 18-footer by Frank Barrows in the Charlotte Observer. All three agreed the shot went in, though.
Randy Mahaffey and Larry Miller both missed shots on Carolina's next possession and Lewis clinched the victory by hitting four foul shots in the final seconds, the final two with one second remaining.
Lewis averaged 26.5 points for the four-game series, 10 above his regular season average. His offense was all the more impressive given the effort he had to put in defensively while guarding Verga, who averaged 27 in the series, half-a-point below his regular season average.
"Without a doubt that's the best four games I've ever put together," Lewis told Denny. "It's gotta feel even better for a guy who has never been on a championship team. We've taken another step toward that goal."
The Cougars, perhaps motivated by the previous day's practice session, at least went down playing aggressively. They were called for 30 fouls in the game, five more than the Pacers, and Brown was "hit with everything but brass knuckles" according to Denny.
Brown kept his cool during the game but did make a joke afterward that would earn a major fine today.
"I'm gonna bring a gun the next series," he said.
He didn't, but he did bring his shooting eye. More to come on that.
The game drew 5,211 rowdy fans to Reynold's Coliseum on the campus of North Carolina State, but the Cougars had virtually no homecourt advantage. They hadn't played a game there all season, which only amplified the fallacies of the regional concept some ABA franchises employed.
The Cougars played their regular season home games in three cities this season: Greensboro (20), Charlotte (14) and Raleigh (8). The games in Raleigh had been played in the municipal Dorton Center, but it apparently was not available for the playoffs, thus the move to Reynolds Coliseum. The attendance for Game 4 in Reynolds was less than the regular season average downtown (6,673).
Carolina became the first ABA team to try the regional approach. Despite its questionable merit, three others would soon try it: the Virginia Squires, the Floridians and the Texas Chaparrals.
That logic is difficult to fathom in hindsight. If one city couldn't support a team, then spreading the product to two other smaller locations didn't seem likely to boost interest. Fans weren't going to follow a team as closely if they had to share it with other groups. Even if it did improve attendance, the financial impact would be nullified by the added expense of renting branch offices and reimbursing players and staff members for mileage and hotel accommodations when necessary. It also reduced media coverage, as some of the newspapers didn't send reporters to the home games in other cities.
Beyond all that, it was a major nuisance for team personnel to constantly move between cities for its home games. The Pacers, for example, had to gather their traveling party, media included, and ride a bus 160 miles from Charlotte after Game 3.
Carolina eventually suffered for its split personality. In the 1973 playoffs, after it had finished the regular season 57-27 under coach Larry Brown, it was faced with a Game 7 on its home court in its second-round series with Kentucky. But which home court? Cougars' management decided to play it in Charlotte. That upset the fans in Greensboro, which was regarded as the hub of the franchise and had hosted most of the regular season home games.
Playing in less familiar surroundings, Carolina lost its Game 7 match-up with the Colonels, 107-96, before 10,231 fans.
The Pacers never went to the extreme of trying a regional approach, but did play regular season home games in Kokomo, New Castle, Shelbyville, Madison and Fort Wayne during their inaugural season (1967-68). That didn't work out well, either.
They would have had to go to Anderson High School's Wigwam to play Game 5 of this series, however, if the Cougars had managed to extend it because the Fairgrounds Coliseum was booked. Lewis and his teammates saved them the trouble.
Now there was nothing to do but wait. The second round for the Pacers wouldn't begin until May 1 while Kentucky and New York played out their first-round series.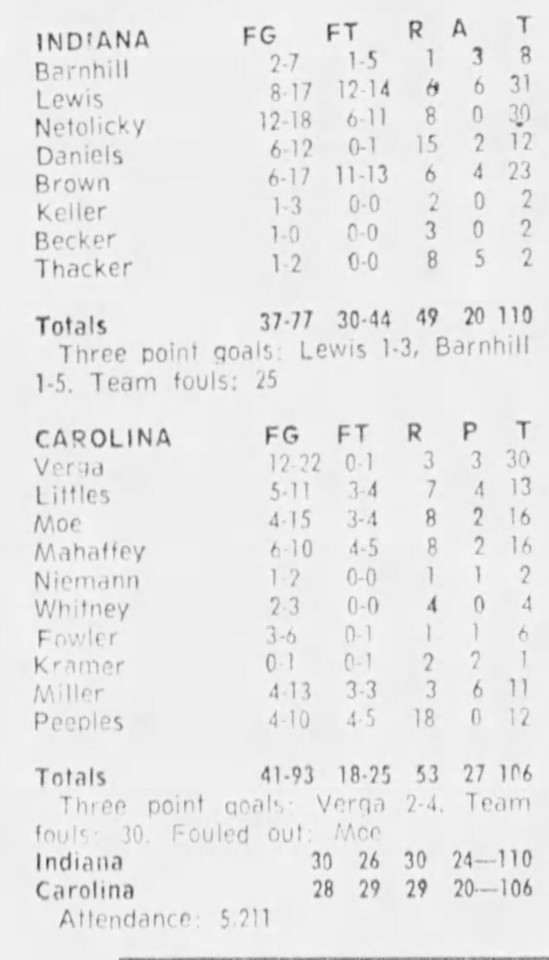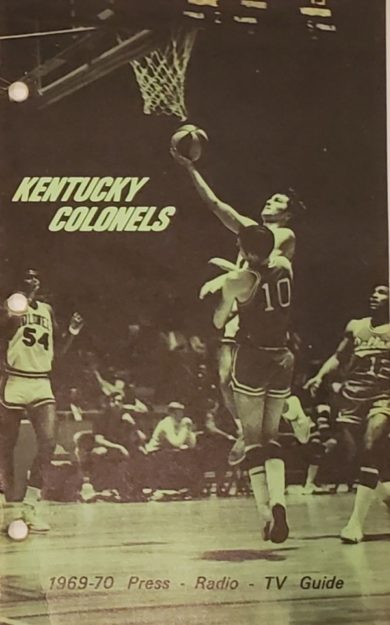 Round Two: Pacers vs. Kentucky
Game 1
May 1, 1970
Fairgrounds Coliseum
Lewis-less Pacers drop Game 1 to Kentucky in overtime  
Week-long vacations generally qualify as a good thing, but not amid the postseason when rhythm and momentum are more important than rest. The Pacers proved that once again by losing Game 1 of their second-round matchup with Kentucky, 114-110 in overtime.
The Colonels needed all seven games to clinch their first-round series with New York on April 29, so the Pacers had to wait a week before resuming play following their first-round sweep of Carolina. By then, rest had turned to rust. (1)
The 1970 Pacers had defeated Kentucky in nine of their 11 meetings during the regular season, not to mention the final three playoff games of their first-round series the previous season. But they were caught off-guard in Game 1, partly because of their missing guard.
Freddie Lewis, star of the four-game sweep of Carolina, missed the game because of the flu. He had begun feeling sick the previous day at practice and was worse on game day. He put on a uniform and warmed up but didn't feel well enough to play and headed home.
Billy Keller replaced him in the starting lineup and performed well, finishing with 14 points, six rebounds and six assists. Even more importantly, he limited Kentucky guard Louie Dampier, a Southport High School alum, to seven points on 2-of-13 shooting.
Lewis, though, was missed for his leadership according to Indianapolis Star sportswriter Dave Overpeck, who said the Pacers "looked a little lost at times, particularly late in the second quarter."
The players agreed.
"We needed our leader out there tonight," Mel Daniels said. "They keep talking about Roger Brown, Bob Netolicky and me, but Fredddie is just as important as the three of us."
The other significant impact of Lewis' absence was that it thinned the bench by moving Keller into the starting lineup. Coach Slick Leonard wound up playing each of his starters at least 42 minutes. Tom Thacker gave starting guard John Barnhill some relief by playing 13 minutes off the bench and forward Art Becker played nine, but that was the extent of the relief effort. Only seven Pacers played and three of the starters logged more than 50 minutes.
Another former Indiana high school star, Goose Ligon, picked up the slack for Dampier. Ligon, who led Kokomo to the state championship team in 1962, had participated in the Pacers' open tryout in June of 1967 before their first season. He was released reportedly because he didn't rebound well, although he (and others) suspected it was because of his reputation.
He had spent time in the state penitentiary in Pendleton on an alleged rape charge and the Pacers wanted to be weighed down by as little baggage as possible as they tried to get off the ground. The Pacers recommended Ligon to Kentucky's fledgling management group and he made that team – which the Colonels were especially happy about after this game, in which he finished with 34 points on 15-of-22 shooting and 24 rebounds.
"I don't have anything to say," a smiling Ligon told Star reporter Robin Miller in the locker room. "I don't want to get overconfident."
The Pacers also self-destructed in ways that probably were related to their extended layoff. For one, they committed 18 turnovers. For another, they missed 17 foul shots, six at crucial moments late in the game. Daniels missed nine all by himself.
Roger Brown led their scoring with 29 points but had an uneven performance. He attempted 37 field goals – most likely a career high, although it's difficult to prove because attempts were not routinely recorded in early ABA box scores – but he made just 13. He did, however, make a three-pointer with six seconds left that forced overtime.
Daniels had 28 points and 21 rebounds. Bob Netolicky had 24 points and 20 rebounds but was quick to point out afterward that he had been guilty of five of the turnovers. He also had been the guiltiest defender of Ligon.
"He smoked me," Netolicky said. "We'll see if he can do it tomorrow."
That's right, tomorrow. The Pacers and Colonels were to gather again at the Coliseum the following day, a Saturday, for Game 2. And Game 3 would be played the day after that, a Sunday, in Louisville.
But that's another story. For now, the Pacers had a potential crisis on their hands.
(1) Twenty-nine years later, in 1999, another Pacers team would display the problems that can occur when a team has too much time off between playoff rounds. A widespread favorite to win the NBA championship in 1998, they swept through the first two rounds, but then had to wait a week while New York and Miami slogged through their seven-game series. The Knicks then took the momentum of their Game 7 victory into Market Square Arena and defeated the Pacers, who seemed out of sync from the start.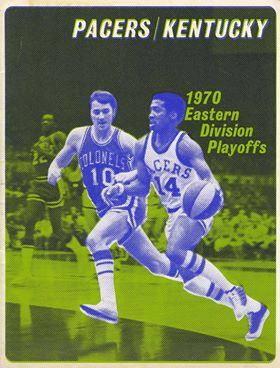 Game 2
May 2, 1970
Fairgrounds Coliseum
Lewis returns, Keller burns Dampier again
Billy Keller and Louie Dampier got along just fine, as they should have. Both were undersized guards, both were easy-going guys off the court and both had attended Indianapolis high schools, graduating two years apart. They had been playing  against one another going back to the 1962-63 season when Dampier was a senior at Southport and Keller a sophomore at Washington.
They had some great battles in the ABA, however, and Keller won his share of them. Dampier, who had averaged 26 points during the regular season, would become the league's all-time leading scorer and gain induction into the Naismith Hall of Fame, but he wouldn't have done so if he had gone up against Keller every game.
Keller scored 21 points and held Dampier to 12 on 3-of-14 shooting in the Pacers' 121-110 victory over Kentucky in Game 2, tying the series at 1-1. Roger Brown (33) and Bob Netolicky (30) scored more than Keller but neither had a bigger role in the outcome that saved the Pacers from dropping the first two games at home.
Two games in, Keller had outscored Dampier 35-19, but he knew better than to issue any proclamations. He had scored a season-high 33 points against the Colonels in Louisville on Jan. 8, but Dampier scored 36 in that one. Keller knew better than to believe he could control Dampier every time out.
"Louie is just a tick off on his shot I think, and a guy like him will explode any time now," Keller said after the game.
Keller's standout play in the first two games lessened the impact of the loss of Freddie Lewis, who had been the Pacers' best player in their first-round sweep of Carolina. Lewis, who had sat out Game 1 with the flu, returned in this game despite a 100-degree fever. He came off the bench, but scored 14 points in 25 minutes . Twelve of those came from the foul line and 12 came in the second half.
Brown had 13 rebounds and five assists to go with his 33 points while Netolicky had 22 rebounds (10 offensive) to go with his 30 points. Netolicky – who spent the afternoon of the game at the Indianapolis Motor Speedway "conning a pit pass" according to Robin Miller's article in the Star, scored eight points in the game's first six minutes to help the Pacers take a 25-10 lead. He added another eight in the final six minutes of the third period to lead a comeback after the Colonels had taken a 71-65 lead with 6:21 remaining.
Mel Daniels was limited to 24 minutes because of foul trouble and finished with just eight points and eight rebounds. Kentucky center Gene Moore had 28 points and 16 rebounds, but the Pacers still controlled the boards, 63-53, and committed just nine turnovers – 10 fewer than the Colonels.
The Pacers also contained Colonels forward Goose Ligon, who had scored 34 points and grabbed 24 rebounds the previous night in Game 1. Ligon managed just nine points and eight rebounds in 39 minutes in this one as the Pacers played him more physically. Backup forward Art Becker, playing more minutes because of Daniels' foul trouble, got most of the credit.
"Art was the guy who did it," coach Slick Leonard said. He went in and pushed Goose around. He intimidated him and it was a different story."
Becker also scored 12 points. And, as evidence of his physical play, he nearly fouled out as well, committing five fouls in 24 minutes.
"When you push anybody around it bothers him," he said. "We played better defense than they did and that's why we won."
There would be no time for either team to reflect on this one. Not only would they meet for a third day in a row the next day in Louisville, they had a 1:30 p.m. tipoff.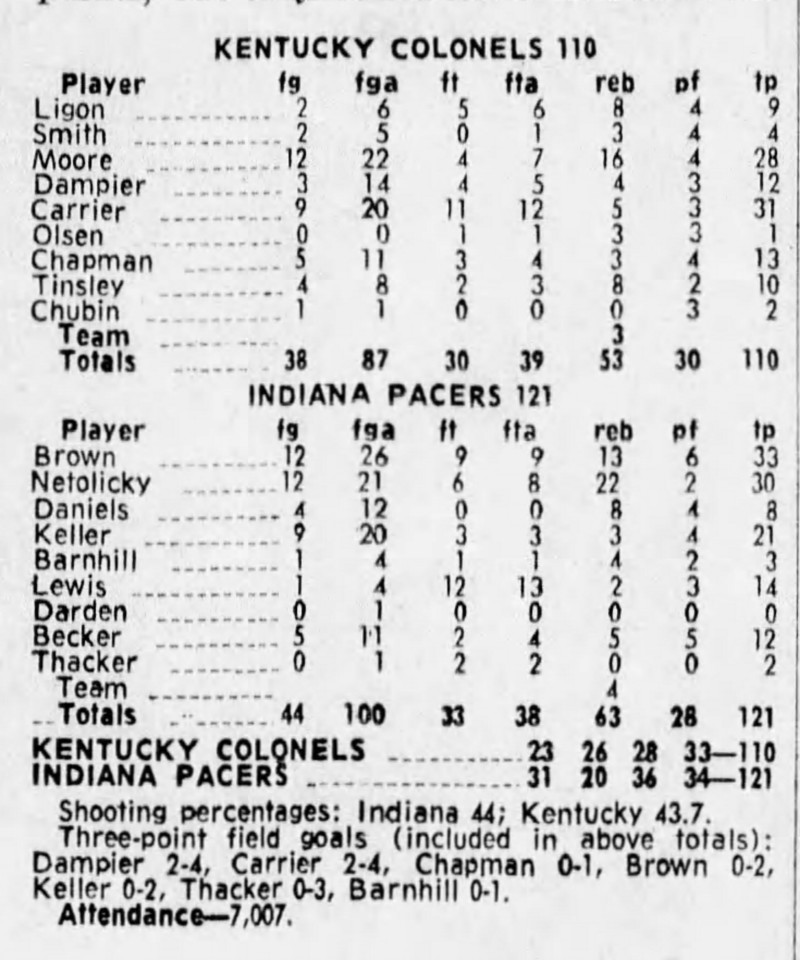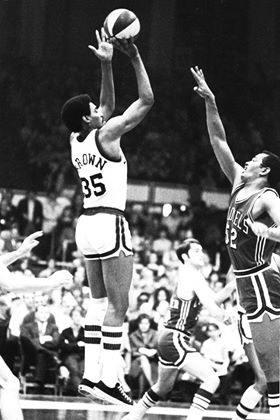 Game 3
May 3, 1970
Louisville Convention Center
Pacers overcome Colonels, schedule-maker to go up 2-1
After waiting a week to begin their second-round playoff series, the Pacers and Colonels played on three consecutive days to catch up. Less than three days, technically, as they met both Friday and Saturday night in Indianapolis and then Sunday afternoon in Louisville.
That's ABA scheduling for you. The league didn't have the benefit of the computer programs that produce NBA schedules these days and arena/coliseum availability was often limited. The Pacers for example in later years had to move playoff games to the Wigwam at Anderson High School or Assembly Hall in Bloomington because the Fairgrounds Coliseum had been scheduled for events such as the Boat, Sport and Travel Show.
So, here they were, tipping off at the Convention Center in Louisville at 1:30 p.m. on a Sunday afternoon after having played in Indianapolis the previous two nights. Billy Keller doesn't recall their travel itinerary, but the most likely scenario is they hopped on a bus following their Game 2 victory and headed south.
Only 3,024 fans turned out for Sunday's game, but neither that nor the quick turnaround seemed to bother the Pacers, who played their best game of the series in a 114-110 victory that gave them a 2-1 lead and regained homecourt advantage.
The Pacers trailed by seven points late in the third quarter but dominated the rest of the game. Kentucky hit two after-the-fact three-pointers in the final 22 seconds or else the final score would have been more representative of the true difference between the teams.
"Now watch us go," Roger Brown said afterward. "We're even better on the road."
They had been for much of the season, anyway. They started 20-2 in road games before gradually losing interest in the regular season and going 8-12 the rest of the way. Still, 28-14 is a strong road record and the Pacers seemed able to turn it on when needed. And it was needed in this game.
Freddie Lewis, still feeling the effects of his flu virus and still playing off the bench behind Keller and John Barnhill, led the scoring with 31 points in 33 minutes. He hit the Pacers' only two three-pointers and all 17 of his free throw attempts while playing at what coach Bob Leonard estimated to be 80 percent efficiency.
Lewis told Indianapolis News reporter Dick Denny he had watched Friday's loss to the Colonels from the top of the Coliseum "with tears in my eyes" after he became ill.
"I put on three pairs of pajamas Friday night and sweated through all of 'em, then got a shot Saturday. I was wobbly when I first went in, but I knew we had to win or be in big trouble."
The Pacers had the usual variety of contributors.
Brown scored 30 points and grabbed 16 rebounds, Mel Daniels had 19 points and 17 rebounds, Bob Netolicky scored 14 points on just nine field goal attempts and Billy Keller kicked in 11 points and another strong defensive effort on Louie Dampier, who scored 22 points but hit just 9-of-25 shots.
After playing on three consecutive days, both teams were desperate for a day off. They were going to get it, too, but only one. They would resume play in a different venue in Louisville, Freedom Hall, on Tuesday and then return to Indianapolis for Game 5 on Wednesday.
The newspapers reported Brown was getting regular cortisone shots in his left knee to ease pain and swelling, Lewis had a charley horse to go with his lingering flu virus and Keller had a sore left foot and left wrist.
What they had more than anything, however, was swagger. Not just to win on the road, but to win close games as well.
"If we go into the final quarter tied or about two behind, there's no way anybody's going to beat us," Daniels said.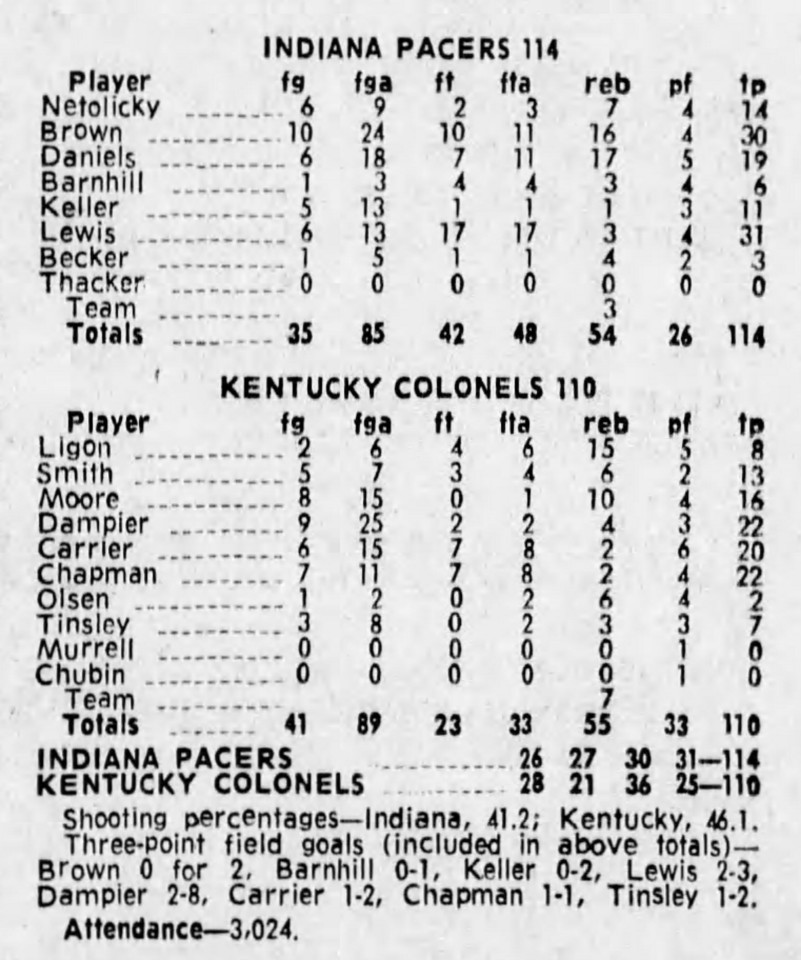 Game 4
May 5, 1970
Freedom Hall (Louisville)
"Bitter" Brown takes his case to the court
Roger Brown wasn't playing only for money in the playoffs, although he continuously and openly emphasized the motivation it provided him. He put pride on the line as well.
Brown had been a second-team all-ABA selection for the regular season, finishing behind Spencer Haywood and Rick Barry in the voting. He thought he deserved to be on the first team because Haywood was more a center than a forward and Barry had played in only 52 of the season's 84 games.
"Sure, I'm bitter," he told Dick Denny of the Indianapolis News. "It's really disheartening."
Brown, who had averaged 23 points and 4.6 assists during the regular season while shooting 51 percent from the field, said he had made a goal of being a first-team selection. He suggested letting players vote for the honors rather than media members.
"Let the guys who really know about these things, the players, vote for all-pro," he said.
The Pacers' opponents in the playoffs were the ones left to pay the price for Brown's frustration, as he became more dominant as the series progressed (and the money improved for each round). Kentucky got a dose of it in the Pacers' 111-103 victory in Game 4, as he finished with 33 points on 12-of-19 shooting, seven rebounds, 10 assists and four steals.
Only 3,476 fans attended the game. About 300 of them were Pacers fans who had bused down from Indianapolis, having taken advantage of the offer of bus fare, a $4 game ticket and a box lunch for a mere $10. They had more to cheer about than the Colonels fans and, according to the Indianapolis newspapers, cheered louder, too.
Especially for Brown, who scored 13 of his points in the fourth quarter to assure the victory. It was his third consecutive game of 30 or more points, and he had scored 29 in the one prior to those.
"I'd definitely put him in the class with Jerry West, Bill Russell, Elgin Baylor for the great pressure ball players," Pacers coach Slick Leonard said. "He does it night after night."
The other continuing storyline of the series was Billy Keller's dominance of Louie Dampier. Keller still was starting in place of Freddie Lewis, who was recovering from a flu virus. Lewis probably was healthy enough to start and play fulltime by this point, but Keller was playing so well there was no compelling reason to make a change.
Dampier had been a second-team all-ABA selection and all-star this season, averaging 26 points per game – his high in a Hall of Fame career. Keller was turning him in to a pedestrian player, however, keeping the ball out of his hands as often as possible and forcing him into difficult shots.
Keller outscored Dampier 19-18 in this game and matched him for assists with five. Dampier missed his final nine shots from the mid-point of the third quarter to finish 7-of-24 from the field, while Keller scored five points in the fourth period. Through the first four games of the series, Keller had outscored Dampier, 65-59.
Matchups can be funny things, though. While Keller was outplaying Dampier, Kentucky's second-year center Gene Moore was taking it to the Pacers' Mel Daniels, another future Hall of Famer. Moore scored 26 points, grabbed 28 rebounds and passed out six assistts in this game while Daniels finished with 16 points and 13 rebounds.
"Gene played a beautiful game, a hustling game," Daniels told the Louisville Courier-Journal.
Daniels added that the Colonels seemed to be succumbing to the pressure of the close games in the series and admitted to being guilty as well.
"I think that's what I've been doing myself – I haven't been too good," he said. "
The strength of the Pacers, though, was that they didn't have to rely too heavily on  one or two players. An all-star center could be outplayed by a pedestrian opponent and an all-star guard and team captain could have a flu virus and play off the bench ... it didn't matter much, they still had enough weapons.
Aside from the individual brilliance of Brown and Keller in Game 4, they got major contributions from Bob Netolicky, who matched Daniels with 16 points and 13 rebounds, and from Lewis and Art Becker who each added 11 points off the bench. Becker scored nine of his points in the third quarter when Netolicky picked up a third foul early in the period.
So, the Pacers took a 3-1 lead back to Indianapolis for another game the following night. It would be the fifth game in six days, a ridiculous schedule by today's standards, but at least a fair one. Both teams were playing it.
But Kentucky had a problem: the Pacers had had the reinforcements to withstand the trek.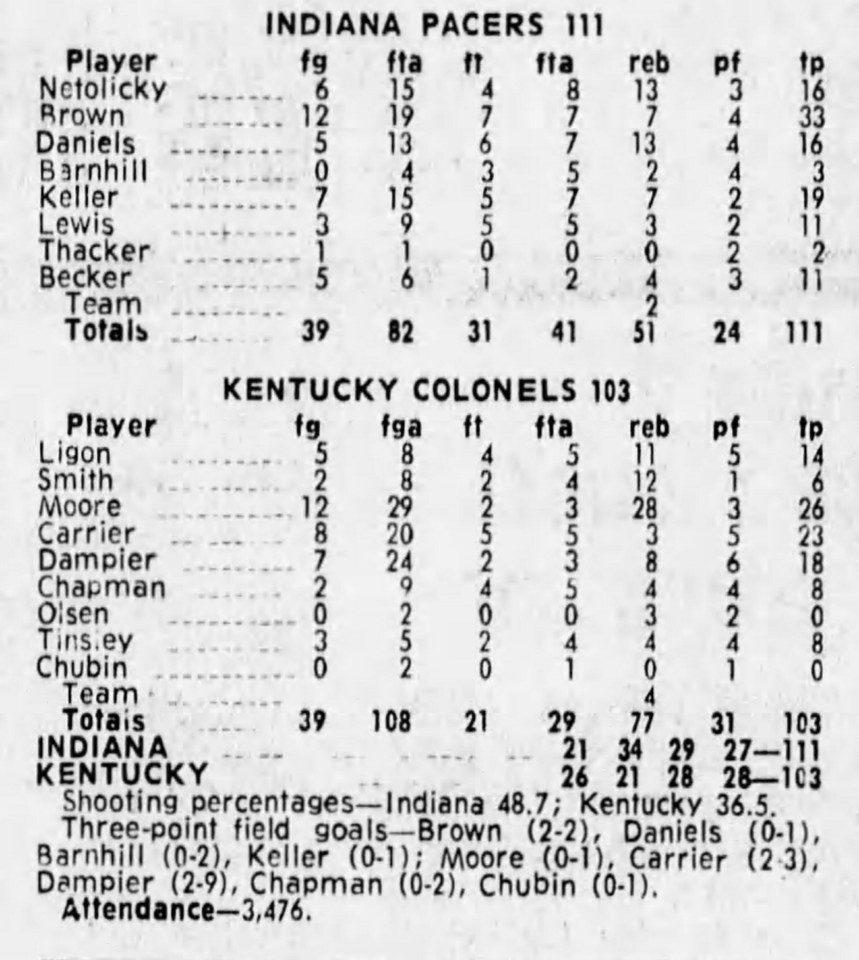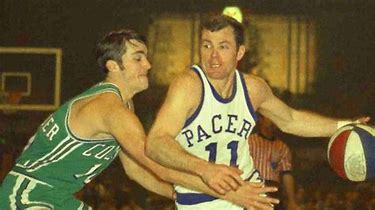 Game 5
May 6, 1970
Fairgrounds Coliseum
Keller stands tallest as Pacers advance to finals
Billy Keller and Louie Dampier first shared a basketball court in the final game of the Sectional in the 1963 state high school tournament.
Dampier, an all-state player headed for the University of Kentucky, scored 20 points and hit the game-winning shot to lead Southport to a 72-70 victory over Washington after scoring 40 in a semifinal game. Keller was barely noticeable at the time, his sophomore season delayed and then hindered by knee surgery required after he stepped in a hole while running cross country in the fall. His name appears last in Washington's half of the box score of that game with a line of zeros next to it.
The two wouldn't cross hardwood paths again until seven years later. By the time the ABA's third season ended, Dampier was a three-time all-star and one of the league's premier scoring threats for the Kentucky Colonels while Keller was a rookie with the Pacers. He had been listed as a seventh- or eighth-round draft pick who had been given only a slight chance of making the team, but quickly established himself as a legitimate player.
Still two years apart, Dampier once again had a significant advantage in experience when the Pacers and Colonels met in the playoffs. But he no longer had the upper hand.
The Pacers got their usual balanced effort in a 117-103 victory in Game 5 to advance to the ABA finals. Roger Brown finished with 28 points on 10-of-16 shooting, six rebounds and eight assists. Mel Daniels had his best game of the series with 24 points and 22 rebounds. Freddie Lewis, playing off the bench but for 31 minutes, had 23 points. Art Becker had another strong relief effort with 14 points.
Most of the newspaper ink following Game 5, however, was spilled on Keller, who outscored Dampier by 14 points in the series and limited the 26-point scorer in the regular season to a 13.4 average on 26 percent shooting.
"There is no taller player in the world today in the eyes, hearts and minds of Indiana Pacers fans than 5-10 Bill Keller," Dick Denny rhapsodized in the Indianapolis News.
Dampier finished the series the way he began it, with a 2-of-13 shooting performance against Keller's Velcro defense. He scored eight points in Game 5, just three over the final three quarters, and missed his final eight shots, much to the delight of 5,452 Pacers fans - most of whom loved to taunt him because he had dared leave the state to play college ball at Kentucky, of all places.
What they didn't know was that Dampier had wanted to go to Indiana University "in the worst way" coming out of high school, but only received a scholarship offer from Hoosiers coach Branch McCracken after his uncle, also named Louie, had made a sales pitch while Louie the recruit waited outside McCracken's office. McCracken's offer was delivered so reluctantly and unenthusiastically that Dampier decided then and there to take a recruiting visit to the University of Kentucky, which showed far more love and won his commitment. Pacers fans should have been booing McCracken for that ,,oversight but always took it out on Dampier instead.
Keller had no personal grudge against Dampier. They shared an even temperament and humble nature and got along just fine both on and off the court. But this series represented an unprecedented opportunity for the rookie, and he took full advantage of it.
Keller became a starter in the series only because Lewis had caught that flu bug before Game 1, but the timing couldn't have been better for him. Pacers coach Slick Leonard based many of his coaching decisions on individual matchups, and the 5-foot-10 Keller matched up well with the 6-foot Dampier.
"I don't think I've ever seen a better defensive effort in my life for five games," Leonard told Denny of the News.
Keller's confidence had been boosted by his performance in a game at Kentucky on Jan. 8, when he got the starting call along with Freddie Lewis in the backcourt and scored 33 points. Dampier scored 36 in that game, but Keller was learning how to go about defending the future Hall of Famer.
Fifty years later, he hasn't forgotten how he did it.
"My philosophy was never to leave his side," he recalled via telephone from his winter home in Florida. "The less he catches the ball, the less he could score. The more I pestered him, the more he had to work to get the ball. He was a great catch-and-shoot player, so I wanted to keep him from getting the ball."
Keller had learned from his coach at Purdue, George King, how to go over the top of screens to defend guards, and he put that to good use against Dampier. He also learned when to apply pressure away from the ball.
"If you can play three, four, five seconds of really good defense, the ball usually will go the other direction," he says. "That makes it really difficult for (the opponent) to catch the ball."
Keller's performance in the series was the final step in winning over his teammates, some of whom had been skeptical of his ability to contribute early in the season.
"Everybody had their doubts," Brown said. "But he sold me. The more he plays the better he gets."
"Billy got Louie's number and never let up," Bob Netolicky added. "He had Louie talking to himself.
"We had our doubts whether he could cope with the tall guards. But he adjusted; he has the ability to learn and he gives 150 percent. That's really amazing in a rookie."
Added Mel Daniels: "A fellow I know said he got exhausted just watching Billy play. That's a great tribute, especially when you do as much as Billy does."
There might have been another factor in Dampier's struggles in the series. Although he never mentioned it himself, Colonels coach Gene Rhodes said after Game 5 Dampier had played with a sore back. And it should be mentioned that when the Pacers and Colonels met again in the 1973 finals, Dampier outscored Keller 111-38, although Keller played off the bench and not nearly as often as in this series.
Still, the Keller-Dampier matchup remains a major subplot of the Pacers-Colonels rivalry, one both can look back on with a smile since both had their moments.
Keller for one recalls their in-game conversations fondly. He attached himself so closely to Dampier throughout the game that when he stood next to him for a free throw attempt Dampier would jokingly say, "Get away from me." And Keller would respond, "No, I need to stay right here with you." Or, when Keller re-entered the game after sitting out a while, Dampier might say, "Where have you been?"
Dampier even looked out for Keller's personal safety at times. Keller recalls a game when he retaliated against Wendell Ladner's elbow with a hard elbow of his own to Ladner's gut.
"Be careful of that guy, he's nuts," Dampier told him.
"We didn't trash talk; it was nothing like that," Keller recalls today. "It was always in a friendly way."
Having played five games in six days, the Pacers needed a break. But not one as long as they were going to get. Their opponent in the finals was going to be the winner of the series between Los Angeles and Denver, which stood 3-1 at the time. The fifth game of that series wasn't going to be played until May 9 so that it could be nationally televised on Saturday afternoon, and the finals weren't going to open in Indianapolis until May 15. That was for the purpose of getting Sunday's Game 2 of that series on national television, something the survival-minded ABA was desperate to do.
The Pacers had made short work of Carolina and Kentucky, with their only loss in nine games coming in overtime. So much for momentum, though. They would have to wait nine days before playing again.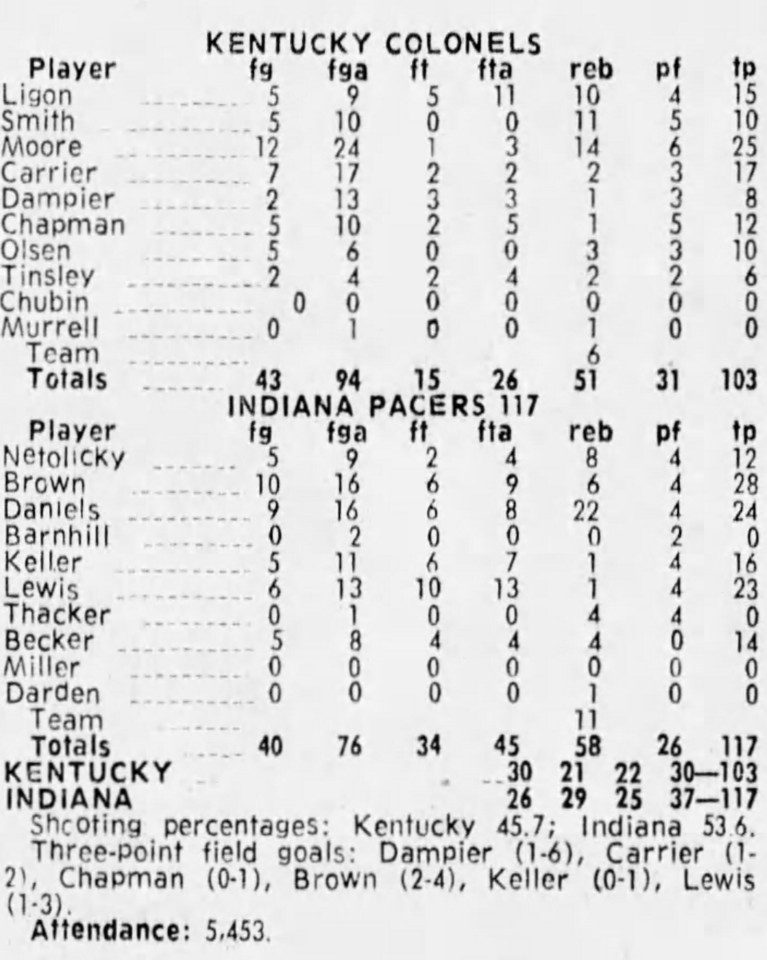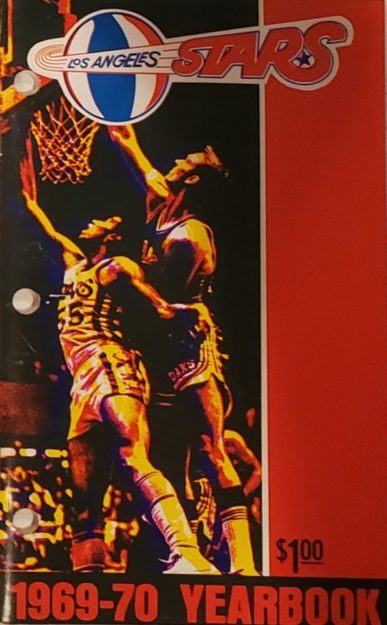 Finals: Pacers vs. Los Angeles Stars
Game 1
May 15, 1970
Fairgrounds Coliseum
Pacers get back to work, go up 1-0 
Now, where were we?
Of all the crazy things about the ABA – the red, white and blue ball, the cheerleaders in bikinis, the empty and rundown arenas – the schedules might have been craziest of all.
League executives for whatever reason wanted to stretch the 84-game regular season from mid-October through mid-April. Add the fact computers were not available then to put the puzzle of a league schedule together as they are now  and consider the lack of availability in many of the multi-use civic arenas and you have teams alternating dry spells with grueling runs of consecutive games.
The Pacers, for example, had a week between games in December, which wasn't enough to derail what turned out to be an eight-game winning streak. They also had a six-day break in February. It could have been worse, though. New Orleans had a 10-day break that encompassed Christmas and New York played just one game over a 15-day period in March.
It worked the other way, too. Teams often played on three or more consecutive nights. The Pacers had back-to-back-back sets on seven occasions in the 1969-70 season. They even played four games in a row in April, flying to Carolina, back to Indianapolis for two games and then to New Orleans.
Crazy.
Thus, the Pacers' playoff schedule in this season strained the boundaries of reason. They had eliminated their second-round opponent, Kentucky, on May 6. The Los Angeles Stars eliminated Denver on May 9. But the two teams didn't begin play in the finals until May 15.
Television had a lot to do with it. The ABA was desperate for network broadcast coverage to market its struggling product and needed weekend afternoon dates to help spread the gospel. A complicating factor was the opening day of qualifications for the Indianapolis 500 on May 14. Neither the Pacers - who had homecourt advantage - nor the ABA wanted to compete with that event, which drew about 250,000 fans. Thus, it was decided the first game of the finals would be played on Friday the 15th at 8:10 p.m. and the second game would be played – and televised on CBS – on Sunday the 17th  at 2 p.m.
*
And so they played. Finally.
The Pacers easily won Game 1, 109-93, with Mel Daniels and Tom Thacker taking a turn in the spotlight.
Funny thing about Daniels' career is that he didn't have that many memorable playoff moments. He was twice voted the ABA's Most Valuable Player (1969 and '71) and was the heart and soul of the Pacers' ABA teams, but he was more a steady presence than a flashing meteor.
In this game, however, he had one of his best playoff moments. He finished with 18 points and 13 rebounds. The production wasn't all that special, but the manner in which he went about it stood out. He played just 23 minutes because of early foul trouble but scored 16 points and grabbed eight rebounds in the final quarter, when the Pacers outscored the Stars 36-22.
Daniels picked up three fouls in the first 8 ½ minutes of the game and a fourth early in the third period. He channeled his anger in the fourth, when the Pacers took their two-point lead and ran with it.
"I don't consider myself a quitter," he told Dick Denny of the Indianapolis News. "There's just no way I'll roll over and play dead.  When I got back to the bench that second time, Slick (Leonard) told me to relax and play my natural game. I did."
Thacker was nearly invisible in the first two rounds but played a major role in this one. Playing more forward than guard to match up with the Stars' smaller lineup, he grabbed 13 rebounds, passed out six assists and scored six points - matching his total from the first nine games – off the bench.
The Stars were a "Cinderella" team in the finals, having made a late surge just to make the playoffs and then pulling upsets in the first two rounds. Their success was more a testament to the coaching of Bill Sharman than their overall talent. They didn't have nearly the star power or depth of the Pacers, and they didn't play up to their capabilities in this game, either.
"It was our worst game in two months," Sharman said.
Sharman was so distressed with his team's play early in the second half that he shouted to some of the reporters on press row, "Hey, better get into uniform! The way we're playing, we'd be better off suiting up you newspapermen."
The perpetually overshadowed Freddie Lewis led the Pacers' scoring with 22 points. Bob Netolicky added 19 points and 14 rebounds along with solid defense of Stars scoring threat George Stone and Roger Brown had 19 points, nine rebounds and five assists.
Billy Keller, the unexpected star of the second-round series with Kentucky when he started in place of an under-the-weather Freddie Lewis, started again - this time with Lewis and in place of John Barnhill. Keller got the call because he was the best matchup for L.A.'s speedy 6-foot rookie Mack Calvin, who had averaged 16.8 points during the regular season.
Keller hit just 4-of-14 shots but passed out 10 assists and limited Calvin to 16 points on 6-of-20 shooting. Keller missed his first seven shots but hit two three-pointers early in the fourth quarter to help propel Pacers' the closing sprint.
"You have to play him just like Louie Dampier," Keller said.
Such was the activity in Indianapolis this weekend that the Los Angeles Times sent two reporters to town – one to cover this series and another to cover qualifications at the Indianapolis Motor Speedway. The one covering the playoffs, John Hall, was impressed with the Pacers but not the city.
He wrote: "If this is the site where the Stars' dreams of a championships wind up broken, it's the right place for it. Everything in Naptown seems to be broken – the weather (rain and tornado warnings), the streets, the neon signs and most of the buildings."
Harsh words, but not necessarily inaccurate at the time.
Hall also was amused by the Coliseum atmosphere. He noted the John Marshall High School band had performed along with "an organist, acrobatic cheerleaders and a giant message board screen on which such timely memos as 'Wake Up, Ref' were flashed via slide to the rocking mob."
Stars owner Bill Daniels also made the trip. He had two good reasons – watching his team play on Friday and Sunday and watching his driver, Lloyd Ruby, try to qualify on Saturday.
Ruby, it turned out, drew the last spot in the qualifying order and wasn't able to make an attempt on the rain-shortened opening day of qualifications. And Sunday wouldn't go any better, for him or the Stars.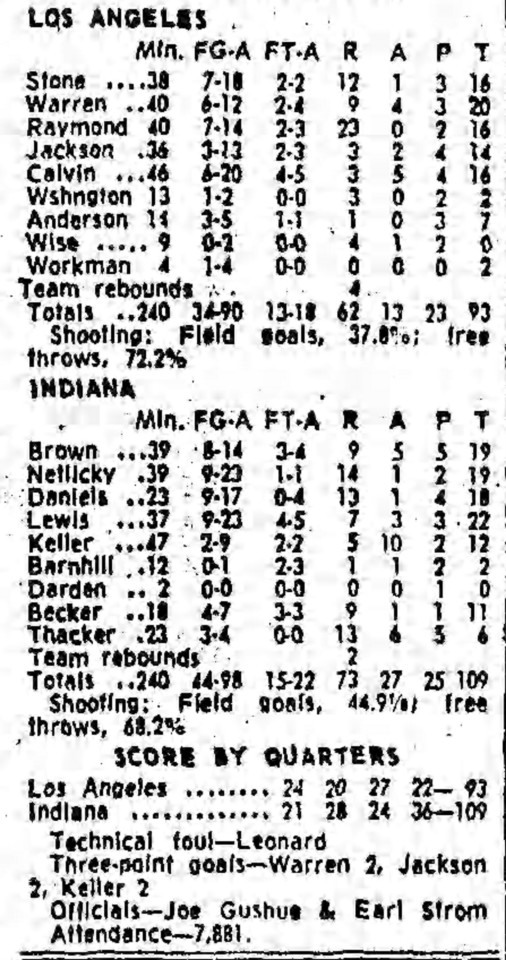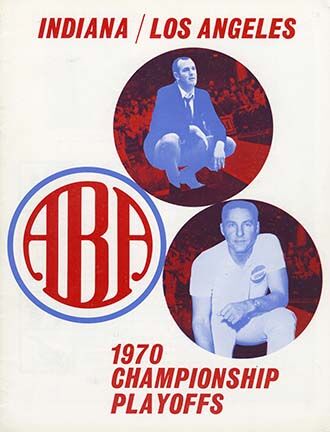 Game 2
May 17, 1970
Fairgrounds Coliseum
Lone Star J.R. inspires Netolicky in Pacers victory
Playing in a nationally-televised basketball game was a big deal in 1970. Especially for ABA teams. And for it to be broadcast in color? Oh, my.
Only 13 of the Pacers' games during the regular season leading into that year's playoffs were televised even locally (Channel 13). One can imagine, then, the excitement of having CBS come to the Coliseum to broadcast Game 2 of their series with the Stars across the nation on Sunday afternoon.
For a team that likely had never played on national television and for a league starving for recognition and respect, it was a big deal. A really big deal, in fact, one that ironically helped inspire fans to actually attend the game because it was blacked out locally. The announced attendance was 9,014, easily the largest of the postseason for the Pacers. And it's a safe bet the figure didn't have to be padded this time.
The game stories in both the Indianapolis Star and Indianapolis News mentioned the broadcast, and the Los Angeles Times story went out of its way to mention the game was "in color-TV contrast."
The need for contrast, in fact, forced the Pacers to wear their dark blue road uniforms. The Stars' road wear was powder blue, which wasn't easily enough distinguished from white uniforms for the television audience, so they wore their white home uniforms.
The Pacers played like the home team, however, taking a 2-0 lead in the series with a 114-111 victory. The Stars were much better than in Game 1, but it wasn't enough to overcome outstanding performances from four of the five Pacers starters.
"It was a good game for TV, but not for us," Los Angeles coach Bill Sharman told Dick Denny of the News.
"Indiana is so tough because they can beat you so many ways."
One of the ways was Bob Netolicky, who led the Pacers' scoring with 32 points and added 15 rebounds. He hit 14-of-22 shots, including 10 in a row in the second half. He also grabbed the game's biggest rebound with six seconds left, drawing a foul and hitting two free throws to complete the scoring.
Netolicky was a big race fan, in all ways, one who loved hanging out at the Indianapolis Motor Speedway whether it was for practice, qualifications or the race. He got to know some of the drivers along the way, so it wasn't a big surprise he found inspiration from the previous day's qualifying effort of the driver who earned the second starting spot behind Al Unser.
"I played that way for my man Johnny Rutherford," Netolicky said. "He inspired me yesterday when he almost got the pole for the 500-mile race."
Other Pacers found their own means of motivation.
Mel Daniels finished with 31 points and 27 rebounds and permitted Stars center Craig Raymond just eight points. He had gotten in early foul trouble in Game 1 against Raymond and wanted to make amends.
"I thought we played terrible," Daniels said. "But Los Angeles played a terrific game, especially that second unit."
Roger Brown hit just 8-of-23 shots against Willie Wise's defense but scored 23 points, grabbed eight rebounds and passed out seven assists.
Brown hit two free throws with the score tied with 2:20 left, and later coaxed the miss from Wise that Netolicky rebounded.
Billy Keller continued his strong play, outscoring Mack Calvin 22-9. Keller also had a game-high eight assists as well as six rebounds.
The Times game story referred to Keller as "the scoring 5-10 idol of the house" and made note of "the Purdue peewee's pressure cooker defense" on Calvin, which forced the Stars to have Warren bring the ball up the court. Keller did a good job on Warren as well, giving up only four of the 20 points Warren scored.
Those four combined to overcome the nightmare suffered by Freddie Lewis, who went scoreless in 32 minutes and missed all 10 field goal attempts.
"Freddie just had one of those days a guy is bound to have when nothing goes right," Pacers coach Slick Leonard said. "But he'll be back. He always has before."
The Pacers started the game poorly, trailing by as many as 11 points in the first quarter and by four at halftime. They insisted the bright lights of the television network didn't affect their focus.
"We weren't shook at the start because of the television cameras," Brown said. "Heck, we didn't even see them. Sometimes you have trouble getting going."
Stars owner Bill Daniels, a cable television magnate who had purchased the Stars at mid-season for less than $300,000, also had another bad day at the Speedway on the day of the game.
His driver for the "500," Lloyd Ruby, had been dominant in practice sessions earlier in the month but drew the last spot in the order for qualifying and didn't get a chance at the pole on Saturday. Then on Sunday, while the Stars were going down to the Pacers, he popped a piston in practice. He switched cars but lost a qualifying attempt when the starter, Pat Vidan, didn't see his hand raised to accept the green flag. After a protest he was awarded another opportunity but blew an engine halfway through his fourth and final qualifying lap.
There would be more chances, though, for both him and the Stars. Ruby would make the field the following weekend and finish 27th in the race. As for the Stars, they would be back in action with the Pacers the following night in Los Angeles. The two teams flew to L.A. on the same commercial flight for Game 3 on Monday.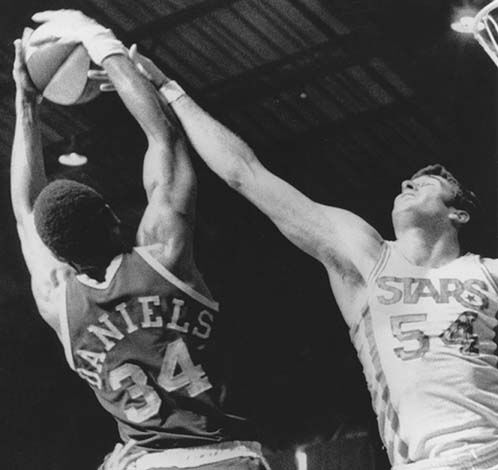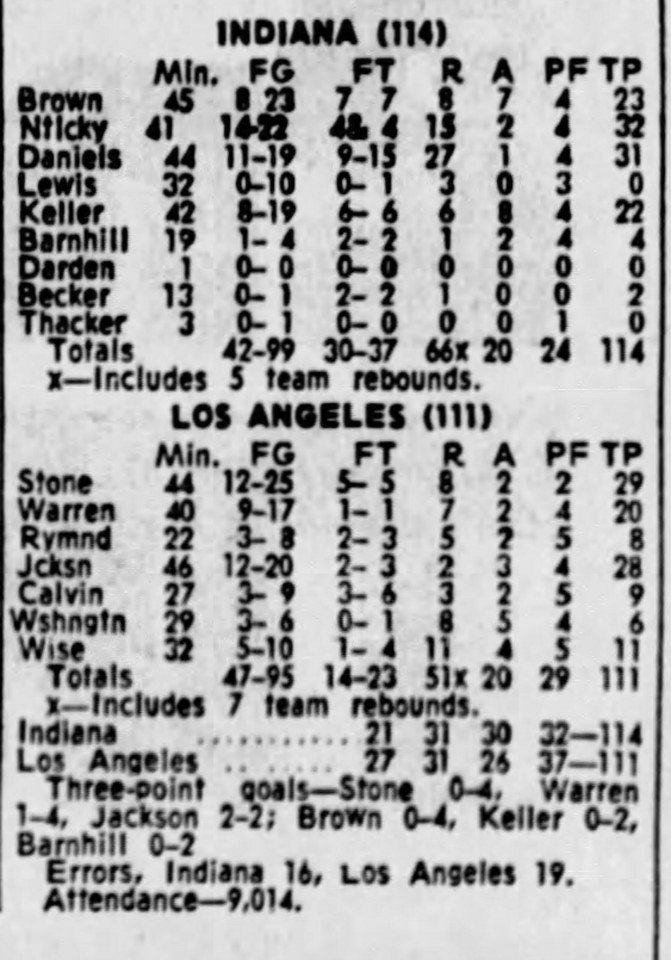 Game 3
May 18, 1970
Anaheim Convention Center
Pacers blow 21-point lead, drop Game 3
The Convention Center in Anaheim wasn't much for seating capacity – about 7,500 – but it was new. And, get this. It was carpeted!
It might sound sill today, but that feature was often mentioned in newspaper articles of the day as a relevant description. Being carpeted (not to mention air-conditioned) was a unique feature in 1970, which is why the Los Angeles Times described the facility as "carpeted and cozy" ahead of Game 3.
The Pacers and Stars headed for it on the same commercial flight West after the Sunday afternoon game in Indianapolis. Game 3 was to be played the next night, and Game 4 on Tuesday.
It wasn't all that unusual for opposing teams to fly together in that era of commercial air travel for professional teams. It was a far cry from today's customized charter airplanes that transport teams.
"We went coach," Billy Keller recalls. "That was fine for me, but you've got guys like Mel Daniels and Netolicky and all these tall guys … going coach was a tough way to go.
"But that was just part of it. We didn't know any better."
Not only did they fly coach to L.A. and not only did they have to play games on three consecutive nights, but the Pacers stayed at the one and only Jolly Roger Hotel in Anaheim, across the street from Disneyland. Some of the players amused themselves by playing miniature golf in the afternoons before the games at the Convention Center.
Amid that backdrop, the Stars renewed their title hopes with a 109-106 victory in Game 3 before 5,780 rowdy fans in the "beautiful" facility, which had opened in July of 1967.
The Pacers made the classic mistake of jumping out to a big early lead, holding a 38-17 advantage after the first quarter. Then as now, comfortable early leads inspired complacency. The Pacers had the added excuse of having won 10 of their 11 playoff games that season and six in a row.
They were outscored in every quarter the rest of the game and went more than 11 minutes without a field goal from late in the third quarter until late in the game.
"We quit moving, we took poor shots and just didn't play basketball," Pacers coach Bob Leonard said.
Captain Freddie Lewis, who followed up Sunday's scoreless game with 24 points to lead the Pacers, found it difficult to argue that point.
"We got a few terrible calls and Los Angeles took the momentum," he said. "The crowd got behind the Stars and they played well. But I think we beat ourselves more than they beat us.
"But we'll be tougher and hungrier tomorrow night. We're the kind of club that can stand pressure. We've been coming back all season."
Stars coach Bill Sharman, a Hall of Fame player with the Boston Celtics in the Fifties, called his team's comeback "one of the greatest I've ever seen in basketball … and I think the crowd was a big factor. We haven't had that kind of support all year. The fans finally got our players stirred up. They gave us a real shot in the arm."
Pacers rookie Billy Keller continued to outplay Stars rookie Mack Calvin, who had been voted first-team All-Rookie, outscoring him 22-4. Mel Daniels added 20 points and 20 rebounds, Bob Netolicky had 18 points and 14 rebounds and Roger Brown had 17 points, 10 rebounds and six assists.
Better things lay ahead for Brown, however, just 24 hours later.
(The following box score from the Los Angeles Times contains an error. Lewis had eight field goals, not five. But it is more accurate than the one that ran in the Star. I give the Star a pass, though, because of the extreme deadline. The game started at 11 p.m. in Indiana, so the box score would have taken by a part-time clerk in under duress.)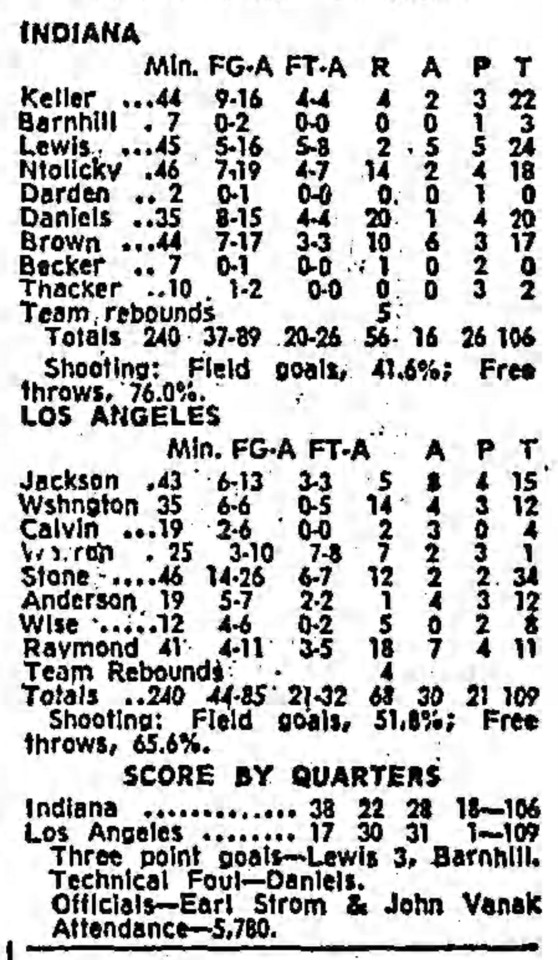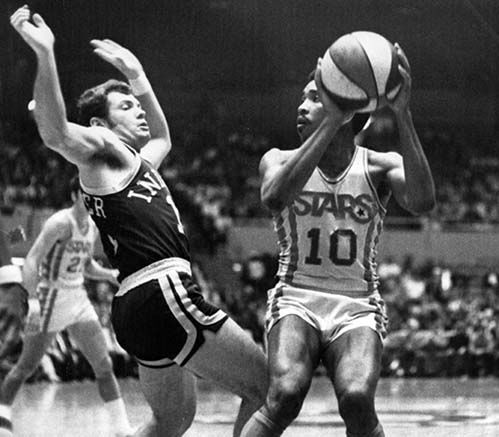 Game 4
May 19, 1970
Anaheim Convention Center
Brown sets records with 53-point outburst
Roger Brown's greatest claim to his Hall of Fame career is the Pacers' playoff series with Los Angeles in the 1970 playoffs. And his most legendary performance in the series came in Game 4, when the Pacers took a 3-1 lead with a 142-20 victory.
Despite playing a third game in three nights, Brown scored 53 points while hitting 18-of-29 shots and 14-of-16 free throws, grabbed 13 rebounds and passed out six assists - all team highs. His point total was an ABA playoff record, surpassing Rick Barry's 52-point total in an earlier round and remains the Pacers' franchise record 50 years later.
Brown had not stood out much in the first three games of the series, as the Stars played him physically. Their rookie forward, Willie Wise, was one of the ABA's better defenders, and was proving it to this point. Brown, though, heeded coach Bob Leonard's advice to make his moves more quickly after catching the ball rather than sizing up his defender first and put his quickness, graceful moves, shooting touch and confident aura on display like never before.
Admitting he had been trying too hard in the postseason, he gave credit to two outside factors: miniature golf and new shoes.
Brown had played at the course across the street that afternoon with Freddie Lewis, Mel Daniels and John Barnhill, according to Lewis' memory. Brown told reporters after the game he shot a 49, four under par.
"I thought walking around the course would relax me," he said after the game.
He also wore, for the first time, the newly released ($80) adidas "Superstar" shoes with three stripes, in navy blue. He said they "enabled me to stop and start well. I went around all of 'em real easy."
Brown's choice of shoes was appropriate, given the postgame praise offered by Stars coach Bill Sharman, who played 11 seasons for the Boston Celtics.
"He's awfully close to Elgin Baylor, who does a few things better than Roger, but Roger shoots from farther out," Sharman said. "As far as I'm concerned, he's a superstar."
Added Pacers center Mel Daniels: "He's a great athlete. He has moves that surprise even him."
Brown had support from Bob Netolicky (18), Freddie Lewis (17), Billy Keller (16), Daniels (14) and Art Becker (11). But this was his moment throughout, one that would grow in legend in passing decades. It was broadcast on television only by WLWI Channel 13 in central Indiana - and wasn't widely viewed there given the 11 p.m. starting time. Highlights of some of his games in the series are available on YouTube, but no complete game videos are known to exist.
Brown began the game by hitting a three-pointer off the opening tip. Legend has it that he was responding to a note from a woman that said something along the lines she would meet with him after the game if he took the game's first shot. That shot can be seen at about the 2:48 mark of this highlight reel.  Brown never commented on the story but teammates such as Netolicky and Daniels claimed its accuracy in later years.
What's absolutely certain is that Brown left Game 4 with a minute remaining and received a standing ovation from the near-capacity crowd of 7,027 – the largest crowd in franchise history, which gives you an idea of why the Stars would move to Utah after the season. The fans weren't as generous toward referees Norm Drucker and Earl Strom, showering them with boos, threats and debris.
Sharman, although praising Brown's performance and criticizing his own team's mistakes, also was incensed by some of the calls.
"Indiana is the most aggressive team in the league," he told the Los Angeles Times. "The Pacers hand-check and use their muscle to hold players off. Yet in the first quarter we didn't shoot a free throw until they made a deliberate foul in the last 31 seconds."
Now up 3-1, the Pacers would have four days off before resuming the series on Saturday in Indianapolis. The opportunity of a lifetime was awaiting them: clinching the championship in an afternoon game (3 p.m.) before their fans and a national television audience.
"We want to win it in Indianapolis," Brown told Dick Denny of the Indianapolis News. "I felt confident we would win tonight. The Stars had said a lot of things on (Los Angeles) TV that we didn't like, things like they were going to beat us again."
Maybe, maybe not. Pacers guard Tom Thacker, the oldest team member who had played with the Boston Celtics, was wise to the ways of motivating teammates by making up statements by opposing players. He had done it the previous season in a playoff series with Kentucky and might have been resorting to the same tactic.
Regardless, the Pacers had every reason to be excited but no reason to be overconfident. The Stars had led in three of the four games of the series and were playing hard even when they weren't playing well.
"The general feelings of the players now is to win this game Saturday," Leonard said. "It's always great to win before your home fans – and it would be even greater to win the ABA championship (in Indianapolis)."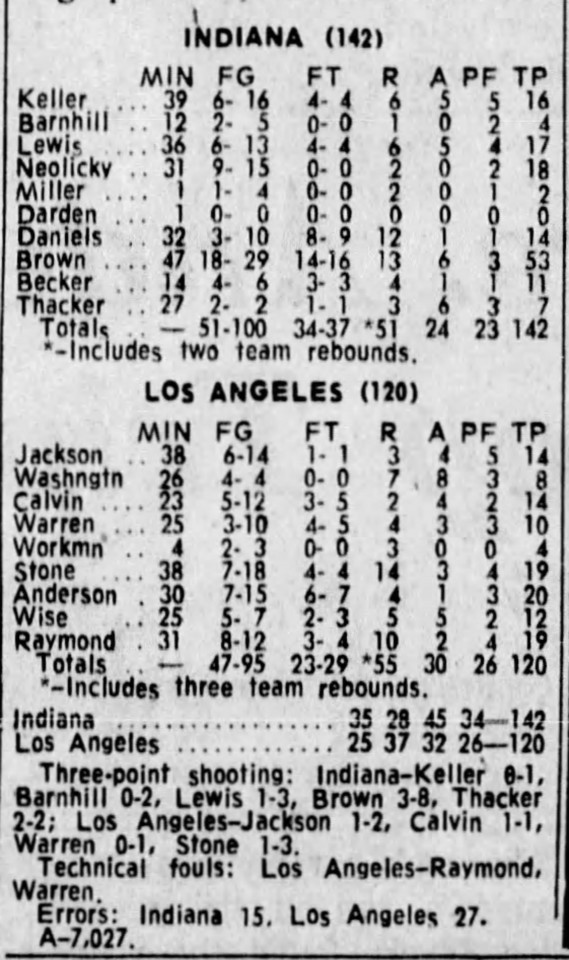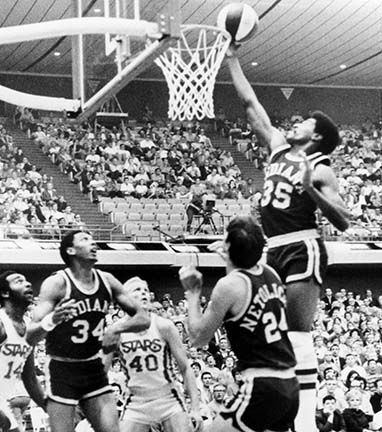 Game 5
May 23, 1970
Fairgrounds Coliseum
Pacers let champagne go stale
All three of the Pacers' ABA championships were clinched on the road, an odd bit of trivia that makes one question the oft-hyped importance of homecourt advantage in the playoffs. For this franchise, at least.
Their best opportunity to get it done before the home fans came when they brought a 3-1 lead back from Los Angeles after a dominating victory in Game 4 in Anaheim. Pat Vidan, the longtime starter for the "500," met the team at the airport and waved a white flag, signifying one lap to go. The headline in the Indianapolis News read, "Pacers Are Near Own Victory Lane." CBS was back to television the Saturday afternoon game nationally - in color, which wasn't always the case for basketball games back then. Champagne was on ice in the locker room. And, a standing room only crowd of more than 10,000 eager fans turned out to celebrate the moment.
What they didn't know was that all-star forward Bob Netolicky had gone water-skiing on Morse Reservoir the previous day and showed up for the game with tight shoulder and arm muscles. Netolicky proceeded to hit just 7-of-22 shots and the Pacers lost in overtime, 117-113.
It's one of the classic elements of Pacers lore today, harmless and humorous because of the ultimate outcome of the series. It could be argued in fact that it turned out for the best, because it gave Roger Brown one more chance to show off his peak form back in Los Angeles in Game 6 before a star-studded audience.
But imagine the reaction if a player did that today. Water-skiing the day before a close-out game for a league championship?
"I missed about 10 easy shots," Netolicky recalls. "If I hadn't gone water skiing, we would have won it at home."
Netolicky, who grabbed 18 rebounds in the game, was by no means solely responsible for the loss, however. Freddie Lewis hit just 6-of-21 shots and Brown, despite scoring a game-high 39 points, missed a 10-foot shot just ahead of the buzzer that could have won the game in regulation. The three players to appear off the bench - John Barnhill, Art Becker and Tom Thacker - combined to miss all 11 of their shots.
At least Netolicky had an excuse.
Billy Keller, who had outplayed the Stars' exceptional rookie Mack Calvin in the first four games of the series, also struggled. He was outscored 33-12.
Fact is, the Pacers failed to handle the moment. One could say they choked, in fact.
"I think they just wanted it a little more than we did," Keller said. "They were down, they had the pressure on them, and I believe we were thinking ahead a little bit."
"We were just too cautious," added Brown. "Too cautious."
Leonard, though, promised the championship would come eventually.
"We will see what they (the Stars) do Monday night, and if we don't win Monday, we'll win Tuesday," he said. "The Indiana Pacers will win the ABA title; you can be sure of that."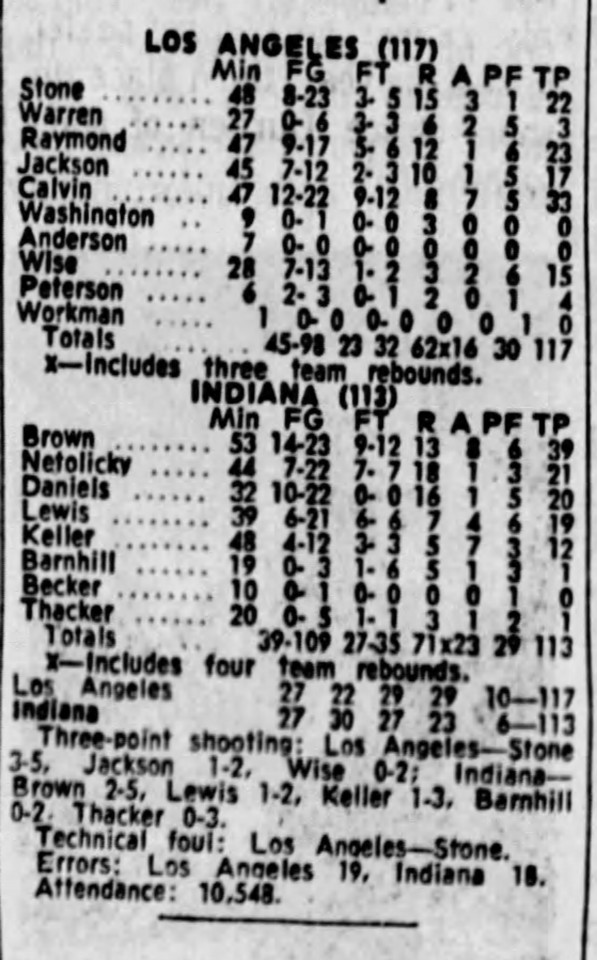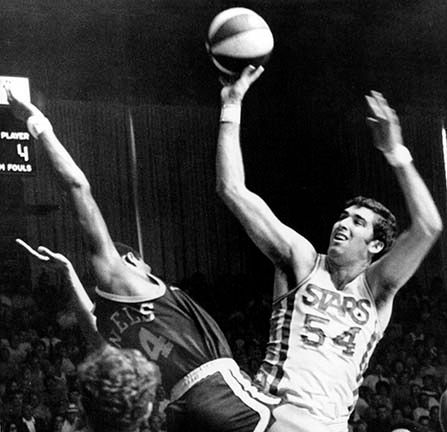 Game 6
May 25, 1970
Los Angeles Sports Arena
Brown loses his cool, leads Pacers' title-clincher
It took a major event for Roger Brown to break out of the cool demeanor that served him well throughout his playing career. An ABA championship turned out to be big enough.
Brown rarely showed emotion on or off the court, and that included when he was about to take the court for Game 6 of the finals. Coach Bob Leonard's wife, Nancy, accompanied the team to Los Angeles and recalls standing in the aisle leading from the locker room to the court.
"Roger came by and took one look at me and said, 'My god, you look like you're about to go to the death chamber,'" she said. "He didn't seem nervous at all."
Brown then went out and calmly scored 45 points, 21 of them coming on a franchise-record seven three-pointers, to lead a 111-107 victory over the Stars that secured the championship.
Freddie Lewis hit the game's biggest shot, a 16-footer with 16 seconds left, and added a free throw nine seconds later. Brown, fittingly, scored the Pacers' final points with two free throws with two seconds remaining. Following Leonard's pregame instruction to "Let it fly," he hit 14-of-27 shots, including 7-of-12 three-pointers. It was a good thing, too, because his teammates weren't so poised. They combined to hit 24-of-72 shots. Billy Keller (2-of-4) was the only one to hit half of his attempts.
The Pacers had the better team, with four players in the starting lineup who were multiple all-star selections. The Stars had just one player of that caliber, and Mack Calvin was a rookie whose all-star appearances would come in later seasons.
The Pacers also got a break when L.A. center Craig Raymond sprained his ankle and had to sit out the last 19 minutes. The acquisition of Raymond in January had been a major factor in the Stars' turnaround that got them into the playoffs, and he had scored in double figures in all but one of their previous postseason games. Still, the Stars fought to the finish. Literally, on one occasion. Bob Netolicky, who finished with 14 points and 13 rebounds, took a shot from George Stone in the fourth quarter that opened a cut that required eight stitches to close.
Brown put aside cool for a moment when the final buzzer sounded, becoming the first player to rush to the sideline and hug Leonard. Netolicky soon followed and a post-game celebration that would last for days began.
Brown had plenty of reasons for it, having just experienced the peak moments of his Hall of Fame career. He was young enough to be at his peak physically and emotionally but not too old to be jaded or spoiled. He averaged 28.5 points, 10.1 rebounds and 5.6 assists over the three postseason rounds and 45.7 points on 71 percent shooting over the final three games against the Stars. He played every second in those three games except for most of the final minute in the Game 4 blowout when he scored 53 points.
Brown was back in character after the locker room celebration subsided. At one point he walked over to Mel Daniels, kissed him on the forehead and said, "Can you believe we just won this championship?" Daniels once said that was the highlight of his career, given Brown's low-key nature.
Brown's Game 6 performance impressed everyone who saw it, whether it was the fans back in Indiana who caught the local television broadcast that began at 11 p.m. or the 8,233 in attendance at the Sports Arena (which had not been available for Games 3 and 4). Newspaper reports mentioned Lakers stars Jerry West and Elgin Baylor, comedian Bill Cosby and movie star Mickey Rooney were on hand. Keller has a memory of Debbie Reynolds being there as well.
Perhaps the greatest compliment of Brown came from Stars coach Bill Sharman, a Naismith Hall of Famer as both a player and coach.
"In my 20 years in pro basketball, I've never seen a player come up with such consistently superb performances in playoff games," said Sharman, who would coach the Utah Stars to an ABA title in 1971 and the Lakers to 69 victories and an NBA title in '72.
"Roger just dominated, and that's tough for a forward to do."
West, still one of the NBA's most legendary guards, was impressed to the point of tampering, although such statements weren't so closely monitored then.
"I have no doubts he could start on any team in my league," West told the Los Angeles Times. "I bet we could even find a spot for him on the Lakers."
For Brown, the championship meant redemption. He had told newspaper reporters during the playoffs of his lingering bitterness over being banned from the NCAA and NBA in 1961 because of an association with a known fixer of games while growing up in Brooklyn. A court later determined him to be innocent of that charge and awarded him damages.
"I'm not bitter anymore," he told Dick Denny of the Indianapolis News following the final game. "I think I've found a home. This championship is what every kid, every man, looks for."
Professional teams flew commercially in that era, so the Pacers spent the night in Los Angeles. They had been able to move from a dilapidated hotel to one far more luxurious upon landing, so they had a decent place to gather. To say the least, sleep was not a priority.
They were greeted by an estimated 1,000 fans at the airport upon landing in Indianapolis. Photographs in the Indianapolis Star showed (1) Daniels autographing a sign held by a young boy riding his father's shoulders – a sign that actually read, "Hip Hip Hooray;" (2) Lewis holding aloft the game ball as he walked through the concourse; and (3) Keller signing an autograph for a young fan, something he did so often that it sometimes annoyed his teammates.
The Pacers were honored in a parade that ran from the team office at 638 E. 38th St. to Meridian and then to the Circle. An estimated 7,500 fans were waiting there along with Mayor Richard Lugar and Governor Edward Whitcomb, both of whom who read proclamations.
Lugar declared the Pacers had put the city on the map. That qualified as an exaggeration given the worldwide status of the Indianapolis 500, but did reflect a widespread sentiment. Local leaders had been working to elevate Indianapolis to a "major league" city and this championship – coming over a team from Los Angeles, no less - made many residents feel that way. Twenty-five years later, Reggie Miller's playoff heroics in Madison Square Garden would have a similar effect.
The Pacers were back in convertibles a day later to participate in the annual 500 Festival Parade downtown. They brought up the rear in a long line of notable figures that included race drivers, astronauts and television celebrities and were, according to reports, the most popular of all. Several fans broke through the barricades to greet them and get autographs as they rode along the route, but no injuries were reported.
That evening they were feted at yet another mass gathering: a ham and beans dinner in the Farmers Building at the State Fairgrounds. Sponsored by a local restaurant, Hambeens Junction, fans were admitted for a mere $1.25 (or perhaps $1.50, according to another newspaper report). About 1,500 attended and another 700 were turned away. ABA commissioner Jack Dolph presented the championship trophy to Mike Storen, Governor Whitcomb made each of the Pacers "Distinguished Hoosiers," Mayor Lugar promised a new arena and Brown was announced as the MVP for the finals - which brought the evening's second standing ovation from the fans.
"I've grateful to be in the ABA and I'm grateful to be in Indianapolis," Brown said.
The degree of the pain Brown played through became more apparent to the public when he had surgery on July 2 to remove the bursa sac from his left knee. "It'll be just like getting a good knee for a bad one - a trade-in," he said.
Brown had great moments in the 1972 finals when the won their second title but was coming off the bench at the end of the '73 playoffs, when they won their third. His body was breaking down and his dedication slipping by then. The first one, the 1970 championship, would forever remain the best - for him and the city.
(Highlights of the Pacers-Stars series can be seen in this clip between the 23-minute and 50-minute marks.)