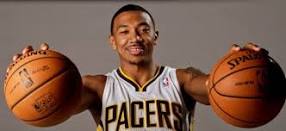 I wrote this story during Orlando Johnson's rookie season with the Pacers, when it appeared he was a rising star. Shortly after it was published, his shooting touch disappeared. He was a non-factor during the playoffs and then fell out of the rotation the following season when he averaged 2.2 points on 32 percent shooting — 19 percent from three-point range.
He was included in the deal that sent Danny Granger to Philadelphia for Evan Turner and Lavoy Allen, but never played for the Sixers. He signed a couple of 10-day contracts with Sacramento, then played in Spain, and what was then called the Development League the next season. He seemed to regain his shooting touch in the Philippines and was averaging 15.5 points while hitting 51 percent of his three-pointers for the Spurs' D League affiliate. 
He made it back to play two games for Phoenix and five for New Orleans in the 2015-16 season, but that was it. It was a surprise ending to a once-promising career and further evidence of how difficult it is to cobble together an NBA career if you are not a high draft choice. His shooting touch departed as mysteriously as it had arrived, and he had no chance to survive in the NBA without it. 
But his tragedy-filled backstory will forever be a great one and those who knew him during his run with the Pacers will remember him fondly. 
Where's the logic in this?
Orlando Johnson hit 20 of his 76 field goal attempts for the Pacers in Summer League play. That's 26 percent, terrible for any league at any level. Then he hit three of his 15 field goal attempts in the preseason exhibition games. That's even worse: 20 percent. And then he played in just three games over the first two months of the regular season and missed his only shot attempt. You don't need to be told that percentage.
Just a few months ago he seemed to be the unfortunate combination of a shooting guard who doesn't shoot well. The Pacers, meanwhile, seemed foolish for trading up to draft him and signing him to a two-year guaranteed contract. Yet here he is, with the NBA season speeding toward the glow of the playoffs, leading the team in three-point shooting percentage (.429) while holding down a spot in the playing rotation and a promising place in their future.
How does that happen? How does a rookie, a second-round draft pick no less, go from Pointless A to Gets The Point B so quickly? Is it inspiration? Instruction? Injection?
It's this simple, actually: he got in the gym and he got better. He tweaked his form and got down to business by putting up shot after shot after shot. And then he got an opportunity and took advantage.
The leap from a mid-major college program to the NBA is a monstrous one. Many players fall short, and those who succeed usually require patience. Johnson has done it more rapidly than anyone could have predicted for a second-round draft pick. But then what's the big deal about improving your jump shot and adapting to the NBA game when your improbable childhood has presented so many challenges?
Like your mother being murdered when you were one year old?
Four relatives dying in a house fire when you were seven?
The grandmother who supported your extended family dying when you were 11?
The coach who had recruited you being fired after your freshman year of college, leading to a transfer?
Spraining an ankle while working out for the NBA team led by one of your boyhood idols?
Johnson's perspective and ambition ranges far beyond the boundaries of a basketball court. It was either that or succumb, and his two older brothers refused to allow that.
"I never feel self-pity," he says. "I never feel down on myself. I've had it way worse. My family's had it way worse. I don't look to complain or make excuses, I look to get it done. That's all I really know."
It's all perfectly logical then, isn't it?
---
Tagged with:
Indiana Pacers
,
Larry Bird
,
Orlando Johnson