This mini-documentary of the Pacers' 1972 ABA championship serves as a tidy time capsule. It shows enough oncourt action to give you a feel for the team, but also (1) a look at the home the Pacers' ABA success built, Market Square Arena, (2) a word from Mayor Richard Lugar, who was mostly responsible for the arena being built downtown (3) and a look inside the Fairgrounds Coliseum.
The Pacers finished the regular season with a 47-37 season, then had to get through a seven-game series with Denver and a seven-game series with Utah before reaching the finals against New York. Like their other two ABA titles, this one was clinched on the road.
George McGinnis and Darnell Hillman were rookies on this team, and grew into major contributors. There was a lot going on behind the scenes with disgruntled players, but you won't hear about that in this documentary. Those stories will have to wait for my next book.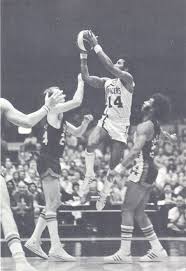 Freddie Lewis was voted MVP of the finals, when the Pacers defeated the Nets in six games. One of them was played at Assembly Hall in Bloomington and Slick Leonard was miked up for the game.
I'm not sold on the title: "Guess Who Won the ABA?" Whatever you want to call it, however, it's the best summary of the second championship season. The video lasts 21 minutes, 15 seconds. It is available only to subscribers.
Tagged with:
1972 ABA championship
,
Freddie Lewis