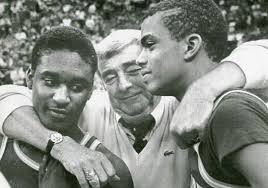 I didn't realize this was going to be the last One on One episode when we met in the studio to record this conversation, but it turned out that way.
Before it aired, I got word the show had been canceled because of budget issues. It made no sense to me, because I had my own sponsors, but that was the story and they stuck with it. Some people at the station got laid off, others were cut from full-time to part-time and the members of the sales staff had their commissions cut, so it was difficult for me to complain.
Oh. Well.
This wasn't a bad finale. Jones was the point guard on the Marion teams that won three consecutive state championships, and shared Mr. Basketball honors with his backcrourt partner, Jay Edwards. Their friendship alone is worth an episode, and you'll get a sense of it here.
Jones admitted he didn't put everything he had into basketball at IU. He didn't see himself as a future NBA player, and knew his degree was going to be essential. He got it, and got a good job, too. He was an executive for Cummins Engine when we talked. He was difficult to get into the studio because of his hectic schedule, and after we finished this conversation he stuck around for another half-hour to participate in a conference call.
Jones' basketball career was overshadowed by Edwards, who created more drama on and off the court. His life after basketball, though, would be difficult to beat, and he's been an instrumental figure in Edwards' life since their careers ended. Their story would make a great buddy movie.
First aired 2015
---
Tagged with:
Indiana basketball
,
Indiana Mr. Basketball
,
Jay Edwards
,
Lyndon Jones
,
Marion High School state champions