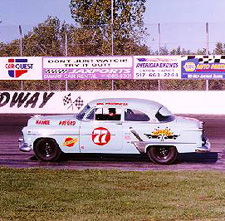 Donald Davidson recommended I do a show with Passwater, the only Indianapolis native to win a NASCAR race. He's an impressive guy, a man who, at the time of this conversation, was in his eighties, owned a successful garage in Broad Ripple and drove his Corvette up from Florida every May for the Indy 500.
He's got a good story, too, from racing in the barnstorming days of NASCAR. His career came to a tragic end, though, when he let his owner try out his car and watched him suffer a fatal crash.
This show was one of the most difficult to put together, though. He had been out at the track all day, and had enjoyed a few beers. So, when we sat down at the kitchen table at his sister's house near Broad Ripple on a hot evening with no air conditioning, he had difficulty keeping his train of thought from running off the rails. We talked a long time, though, and I pieced together a good hour. I think.
We all should have the life he's had. And be doing so well in our eighties.
First aired 2010
---
Tagged with:
Dick Passwater
,
NASCAR racer