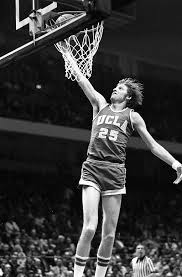 Trgovich played on East Chicago Washington's undefeated state championship team in 1971, the last year the tournament was played at Hinkle Fieldhouse. He was the team's leading scorer, and was a skinny white kid with floppy hair, so naturally he was compared to Pete Maravich, one of the biggest names in basketball at the time. Trgovich. Maravich. Seemed like they could have been related somehow.
Trgovich scored 40 points in EC Washington's win over Floyd Central in the afternoon game of the state finals and 28 in the championship game. He seemed destined to become a great college player, too, but John Wooden turned him into a playmaker and defender at UCLA. You'll want to hear Trgovich's recollection of his first freshman game for the Bruins, when his scoring prowess wasn't appreciated. He wound up his college career as a starter on Wooden's last team, which won the NCAA title in 1975, playing a drastically altered game.
Trgovich worked in the steel industry for several years, but then coached East Chicago Central to a state championship in 2007. He resigned after that season, and went on to coach at IU-Northwest for a few years. For baby boomers, he's a memorable figure in Indiana sports history.
First airing 2009
---
Tagged with:
East Chicago Central coach
,
East Chicago Washington High School
,
Indiana state basksetball champion 1971
,
John Wooden
,
NCAA basketball champion 1975
,
Pete Trgovich
,
UCLA basketball