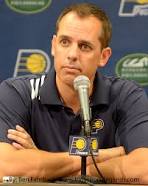 He was the Pacers' interim coach at the time of this conversation. I had never met him, but picked him up at Bankers Life Fieldhouse and drove him over to the studio to record the show. I thought at the time he was just doing all he could to promote himself during an uncertain time, but later came to appreciate his cooperative nature, even in the best of times.
He has an incredible story to tell, of chucking his college playing career at a Division III school in Pennsylvania to go to Kentucky and work his way up the ranks. He showed tremendous initiative and persistence, and he's never lost it. I don't think I've ever met a more positive, upbeat coach in all my years covering sports, unless it's Brad Stevens.
This conversation was the first public reveal in Indiana of Vogel's childhood appearance on Late Night With David Letterman, where he spun a basketball on a toothbrush while brushing his teeth. It's now on YouTube for the world to see. That, too, was an example of his initiative.
I've since written a profile that tells his life story, but this was a good start in allowing people to get to know him. The episode aired again over the summer, after he had signed a contract that removed the interim tag.
NBA coaching is a thin-ice profession, but Vogel seems to have the potential to coach a long time with the Pacers. He's adaptable, upbeat, and communicates well. I don't think the job with get to him like it does some people, and he doesn't have the personality that will make people tired of him. Like all coaches, though, he's got to win.
First aired 2011
---
Tagged with:
Frank Vogel
,
Indiana Pacers coach
,
Juniata College
,
Rick Pitino
,
University of Kentucky basketball