The Indianapolis native had "an addiction to boxing" growing up on the West side of town, and followed through with it until he became the WBO heavyweight champion. It's too bad there are so many boxing associations these days because it dilutes the meaning of being a champion. But it still means something. It's not like anyone can go out and earn a belt.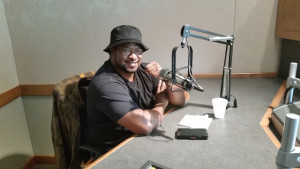 Brewster was the U.S. Amateur champion in 1995 and was runner-up in the Pan American Games. He turned pro in 1996 and won his title with a TKO of Wladimir Klitschko in 2004. He suffered a detached retina in a title defense against Sergei Liakhovich, and never was able to regain the title.
He stopped by the studio for this conversation. As you can tell, he's a gentle man, as many boxers are. That's especially in retirement, after they've absorbed the blows of the sport – both literally and figuratively.
First aired 2014
---
Tagged with:
Lamon Brewster
,
WBO heavyweight champion
,
Wladimir Klitschko