It took quite a bit of time and effort to get him into the studio. I had been trying for a couple of years, but he only comes to Indy twice a year, when the Cavs are in town to play the Pacers, and he was no doubt skeptical about some stranger asking for so much of his time. Besides, I know how it is when you're traveling with an NBA team. Your free time is precious.
I finally got a commitment from him for a Saturday morning conversation, the day of a game against the Pacers. It nearly fell through, though. I was to pick him up in front of the Cavs' team hotel, a Hilton. I assumed he meant the Conrad and was waiting for him there, but it turned out it was the "other" Hilton a block away. After a few phone calls, I finally figured that out, probably just in time before he gave up on it. He's the color television analyst for Cavs games, and was late for a production meeting because of this conversation, but it was for a good cause.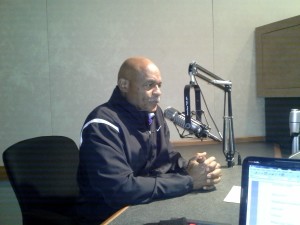 Carr was a star at Notre Dame in an era when scorers were allowed to score. He wasn't a great athlete in the mold of Jordan or LeBron, he was just one of those guys who knew how to score. He scored a record 61 points in an NCAA tournament game, which can be viewed here.As you can tell from watching him play, he wasn't a great athlete who dunked on people or beat them off the dribble. He just knew how to score.
He also was on the Notre Dame team that played at Butler in Tony Hinkle's final game in 1970. He scored 50 in that one, as the Irish won 121-114. Fellow One on One alum Billy Shepherd scored 38 in that game. I called Shepherd before Carr and I began recording, and they were able to reminisce a little.
Carr had an unfortunate NBA career because of injuries, but did make the All-Star game one season and he's still a hugely popular figure in Cleveland. He's more than that at Notre Dame. He's a legend. Visit the basketball arena sometime, and you might walk through the Austin Carr Concourse.
First aired 2013
---
Tagged with:
Austin Carr
,
Cleveland Cavaliers television
,
NCAA tournament single-game scoring record
,
Notre Dame basketball