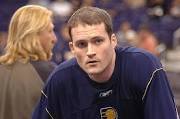 I was there for the very beginning of Croshere's NBA career. Even before it, actually.
I had a telephone conversation with him before the 1997 draft. Word had gotten out that Larry Bird, who had just taken over as the Pacers' coach, liked him, and it seemed likely the Pacers would take him with the 12th pick. I was able to get him on the telephone before the draft and wound up looking prescient. For once.
I also cornered him after his introductory press conference for my first one on one conversation with him. Probably scared him to death, asking so many questions. He was a good interview then, and is a good interview now. He was the type who would ask if you needed to talk with him before leaving the locker room after a game, just to make sure.
He came into the studio for this one while he was working as a Pacers broadcast analyst. He had been such a cooperative interview subject as a player, it didn't make you cringe to see him getting paid to work in the media. He's since left the Pacers to return to southern California, and is working as a college analyst on television.
Croshere struck gold after averaging 15 points and 8 rebounds in the 2000 NBA Finals against the Lakers, signing a $52 million contract after that season. He didn't live up to it, but still was a valuable contributor on playoff teams. You'll appreciate his stories, including his memory of playing with Dirk Nowitzki in Dallas. And, by the way … it's pronounced CRO – zher. Not cro – SHERE.
First aired 2011
---
Tagged with:
2000 NBA Finals
,
Austin Croshere
,
Indiana Pacers