He had the misfortune of being a good player on bad teams for most of his NFL career, but kept a professional attitude throughout the madness.
A member of the Colts when they Mayflowered it to Indianapolis in 1984, he suffered through Frank Kush's boot camps – listen for the story of the teammate who dumped a drink on Kush's head – and then Rod Dowhower's knitting circles. He finally wound up on a playoff team, although one that lost in the first round, and finished his career in Cleveland and Miami.
Before all that, he was an All-American at Alabama who was featured on the cover of Sports Illustrated for a game-saving tackle in the national championship game against Penn State.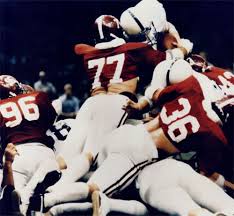 He was the Colts' radio analyst with Joe McConnell for a few years, and has been part of the postgame radio shows in recent years.
Had he been in a better place at a better time, his career would have been far more rewarding. But he accepted his fate gracefully.
First aired 2010
---
Tagged with:
Alabama football
,
Barry Krauss
,
Colts linebacker