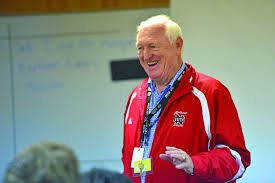 Here's another one that turned out even better than I anticipated.
Hodges is steeped in Indiana's basketball traditions, from his high school playing career at Zionsville onward. He's best known for coaching Indiana State to the championship game of the NCAA tournament in 1979, but that turned out to be a mixed blessing. He didn't last long at ISU after that season, and was off on a wayward coaching career that included colleges and high schools. He was OK with that, because he was coaching for the right reasons.
Hodge's account of how he recruited Bird to Indiana State is a classic, told here in greater detail than I've ever seen it reported. But there's much more to his story than that, and it was soon obvious to me as we were taking on the telephone that it was going to require two episodes. Hodges was even gracious enough to take another call from me and fill in a couple of holes after our initial conversation.
His time coaching basketball in Indiana was brief, but his career was eventful and his story should be heard. It tells of the pitfalls of coaching, even when you've recruited a future Hall of Famer and taken a team to the championship game of the NCAA tournament.
First aired 2015
---
Tagged with:
1979 NCAA basketball tournament
,
Bill Hodges
,
Indiana State
,
Larry Bird