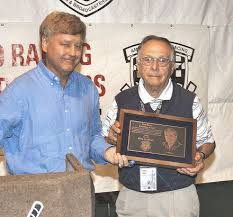 As far as I know, Marvel has attended more consecutive Indy 500s than anyone but fellow One on One alum Dr. Richard Bennett. He's also the original media relations director for the Pacers, so there's a lot of history to go through here.
Marvel was instrumental in the formation of the Pacers, a member of the bare-bones staff that put in long hours to get the franchise off the ground. He adopted a motto of 110%, and had buttons made declaring that to pass out to other employees. His primary career, however, has been in racing, and he's part of the fabric of that event. It's guys like him who make the race what it is because of his involvement with USAC and other organizations.
I've known him for a long time, but we had to do this one over the telephone from his home in Kentucky.
First aired 2014
Tagged with:
Bill Marvel
,
Indiana Pacers
,
Indianapolis 500
,
USAC