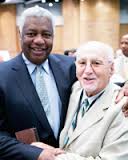 This name isn't well-known to casual sports fans, but is certainly remembered by everyone who met him.
Tosheff was a character. People who knew him from his days at IU or afterward tended to smile and roll their eyes when his name came up. After we became acquainted he called me a few times on Saturday mornings and, when I answered the phone I was greeted with this declaration: "Stop having sex!"
That was Tosheff.
He was a great all-around athlete at IU, and played professionally for both the NBA Olympians and baseball Indians in the early 1950s. He claims to have been the co-Rookie of the Year in the NBA in 1952. The league doesn't officially recognize that honor, as it didn't begin the award until 1953, but someone did. Tosheff had a trophy and news clippings to back him.
He also had a knack for trying to make things happen off the court or field, too. One example: he owned an ice cream stand during his days with the Olympians. That kind of initiative helped him achieve his greatest accomplishment late in his life. He spent years trying to convince the NBA to include those who had played three and four seasons before 1965 in the pension plan. After 23 years, he won. More than 100 players benefited, some of them receiving money they needed desperately.
You could argue Tosheff was just looking out for himself, since he fit into the category of those added to the plan, but I had enough conversations with him to become convinced he was acting in good faith. He seemed to have enough money of his own, and had children to look after him as well. He was the kind of guy who knew a lot of people. And everyone who met him remembered him, including  Oscar Robertson, with whom he's pictured here. Robertson had led a fight for a pension for retired NBA players in the Sixties, and Tosheff continued it in the Eighties.
He talked to me on the telephone from his home in San Diego in September of 2009 for this episode. He died on Oct. 1, 2011 at age 85.
First aired 2009
---
Tagged with:
Bill Tosheff
,
Indiana University basketball
,
Indiana University football
,
Indianapolis Indians
,
Indianapolis Olympians
,
NBA pension plan