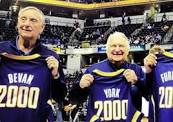 He's led the Pacers stat crew from Day One of the franchise. Before Day One, really. He was there for the original call-out for talent, when guys came in off the street to try to earn a professional basketball contract, and kept stats for the scrimmages.
He's been with the Pacers ever since, directing a crew that has grown along with the technology. In the early years he sat courtside and typed running play-by-play on a typewriter, then ran it off along with box scores from a mimeograph machine in a makeshift press room at the Fairgrounds Coliseum. Now he stays in a backroom at Bankers Life Fieldhouse, printing out the stats from a computer.
He's come a long way while doing the same job. It's a part-time gig, something he does in retirement now, and clearly a labor of love. But he's an integral part of Pacers history, and can tell stories hardly anybody else knows.
First aired 2013
---
Tagged with:
Bill York
,
Indiana Pacers statistician