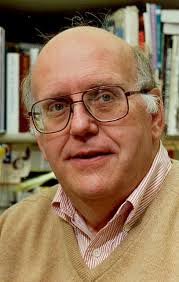 He's old school, like a sportswriter out of the Fifties – which his exactly what he is. He took a positive approach to every team or person he covered, and overlooked flaws.
He worked his way up from the bottom, starting with the hometown Huntington paper, and wound up in Bloomington. He was waiting there when Bob Knight arrived, which was one of the greatest breaks of Knight's career and certainly made Hammel's life more interesting. The two became close friends, with Hammel as much an adviser and sympathizer as reporter.
His relationship with Knight wouldn't have flown at a lot of newspapers, but Hammel brought major market talent and hustle to his job, and Knight's teams gave him plenty to write about. It wasn't unusual after an afternoon game for him to write as many as five stories on it. All of them good. All of them positive toward the team he covered. That's just who he is.
First aired 2011
---
Tagged with:
Bloomington Herald-Telephone
,
Bob Hammel
,
Bob Knight