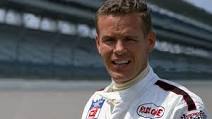 I had never met him, and we had to do this one over the telephone, but he made it seem like we were old friends. He's a natural talker and a colorful personality with a lifetime of stories to tell, so it's difficult to go wrong under those circumstances. I had to go with two episodes; it would have been impossible for me (and unfair to you) to edit it down to one.
I did meet him briefly a couple of weeks later, when I dropped off CDs of the shows at his RV in the infield lot at the Indianapolis Motor Speedway. I can only imagine the stories you'd hear if he had a few beers in him and no microphone near him.
He was an outstanding broadcast analyst, I thought, but he doesn't seem the type to go to meetings and work for a big corporation. He was one of the "cowboy" drivers, the kind that don't seem to exist any longer in Indy Car racing.
First aired 2011
---
Tagged with:
Al Unser Sr.
,
Bobby Unser
,
Indianapolis 500 winner