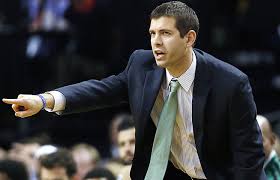 My second conversation with Stevens came the following fall, after that title run. Little did he know he had another one in him, even more improbable than the first.
I wanted to do a third show with Stevens after he became the Boston Celtics' coach, but the timing didn't work out. I had sent a request to the Celtics' outstanding media relations director, Jeff Twiss, in September before his first season with the team and got a personal reply from Stevens himself, asking if we could wait until after the season. That made sense anyway, because there would be more to talk about then.
That's Stevens for you. He hasn't let fame or fortune get to him and takes everything calmly and in stride. He represents the modern trend in coaching — a good thing, in my opinion.
He's been an immediate success in the NBA, winning games with Xs and Os when talent wasn't enough. He'll do better with more experience (and talent). People who think NBA players don't want to be coached are foolish. Coaches such as Stevens who can prepare them to win games will always have their respect.
First aired 2010
---
Tagged with:
Boston Celtics coach
,
Brad Stevens
,
Butler basketball