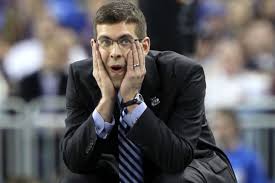 Next to Barry Collier, he's the person most responsible for Butler's amazing run in basketball. The consecutive appearances in the championship game of the NCAA tournament remain two of the greatest performances ever turned in by a college coach, and are as impressive in hindsight as they were in the present tense.
I visited with Stevens twice for separate shows. The first time, Butler was involved in NCAA tournament play. Little did he know his team was about to go on a run that would end with Gordon Hayward's barely-missed shot at the final buzzer in the final game in Lucas Oil Stadium.
He's got a great story as a Division III point guard who went to work for Eli Lilly after graduating from DePauw, quickly realized he truly wanted to coach and then made it happen. He was prepared to work as an Applebees waiter to support himself, but Butler found a way for him to make some money as a volunteer coach.
It was the start of something big.
First aired 2010
---
Tagged with:
Boston Celtics
,
Brad Stevens
,
Butler University basketball