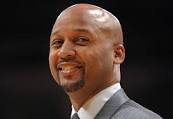 He was an assistant coach for the Pacers when we sat down in his office at Bankers Life Fieldhouse for this conversation. He was highly regarded in that role, and widely praised for his contributions to the success of the Pacer teams during his time in Indy.
His head coaching experience with Denver didn't go well — he was fired in 2015 —  but he'll likely bounce back in some NBA capacity. His career as a player and assistant coach was too good for him to just disappear.
He wouldn't have been blamed for disappearing from life after his parents and sister were killed in an automobile accident while they were driving to Las Vegas. His sister's infant daughter survived, and Shaw and his wife raised her.
His poise and maturity was a major part of his success as a player. He bounced around the league, from Boston, where he was a teammate of Larry Bird, then to Orlando and Los Angeles, where he was a teammate of Shaquille O'Neal at both stops. He was on the Lakers team that beat the Pacers in the NBA Finals in 2000, and the Orlando team that beat the Pacers in the Eastern Conference finals in 1995.
He played for seven teams over 14 NBA seasons, along with one season in Italy. Not bad for a kid who wasn't highly recruited out of high school, and had to earn his way at every stop.
First aired 2012
---
Tagged with:
Brian Shaw
,
Denver Nuggets coach
,
Indiana Pacers coach
,
Los Angeles Lakers