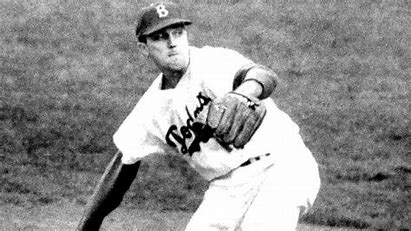 I would have liked to record this one in person, but he preferred the telephone. You can't blame a man for that when he's never met the person calling and asking for an hour of his time.
Erskine was a standout in basketball and baseball while growing up in Anderson. He chose baseball, and became a member of the legendary "Boys of Summer" with the Brooklyn Dodgers. He pitched for the Dodgers from 1948-59, making the move to Los Angeles at the end of his career.
Despite suffering a major shoulder injury in his first major league start, he won 20 games in 1953, threw two no-hitters and struck out 14 batters in a World Series game. He's equally known, though, for his devoted parenting to his son Jimmy, who has Down's Syndrome, and for his friendship with boyhood pal Johnny Wilson, Indiana's Mr. Basketball in 1946. That relationship (Wilson is black) taught Erskine that color doesn't matter, and was a primary reason he had no problem welcoming Jackie Robinson to the Dodgers when many others in baseball wouldn't.
First aired 2010
---
Tagged with:
Brooklyn Dodgers
,
Carl Erskine
,
Jackie Robinson
,
Jumpin' Johnny Wilson