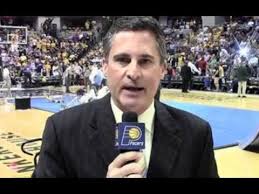 Mark Boyle jokingly calls him Ward Cleaver, the father in the Leave It To Beaver television series, and it's appropriate. Denari is as clean and stable as they came, and could have played the role of a Fifties sitcom dad.
The Pacers' television announcer gives the appearance of someone born with a silver microphone in his mouth, but he came up the hard way. After playing high school basketball for his dad, and then playing at Wabash, he bounced between small-town radio jobs, entry-level TV gigs and being the media relations director at the University of Indianapolis. He performed every job well, and eventually became Butler's radio play-by-play voice and sponsor salesman.
Catching on with Channel 59 was his biggest break, and that led to the Pacers' job. He's older than he looks – clean living has its benefits – and likely will be in the job until he chooses not to be in it. I see him behind the scenes all the time, and he's always the same: polite and professional.
We recorded this one in the studio during a busy period in the playoffs, and he made it easy. I had to cut the part where we reminisced about flexing our Hoosier Hysteria shooting muscles, though, so here's the story: Down in Atlanta, when the Pacers were playing the Hawks in the first round of the 2013 playoffs, several members of the Pacers traveling party killed time with a game of H-O-R-S-E while waiting for the team to finish its video session before practice. That group included former Big Ten MVP Clark Kellogg and Kevin Pritchard, the starting point guard on Kansas' 1988 NCAA championship team.
Not to brag or anything, but – well, OK, to brag – I won the first game in which I played. Then Denari showed up, took my spot, and won the next one. Just saying. Indiana guys can shoot, plain and simple.
First aired 2013
---
Tagged with:
Chris Denari
,
Indiana Pacers television broadcast