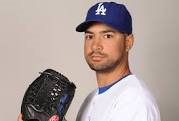 One on One alum Eddie White pointed him out to me before a Pacers game, and gave me some background. I approached him in the stands and he readily agreed to come down to the studio.
There haven't been many grads of IPS schools – in his case, Broad Ripple – dotting Major League rosters. For that matter, there haven't been many grads of Kentucky Wesleyan – the only college that recruited him – to make it to the majors. Or 10th-round draft picks, either. So, he's uniquely qualified to be a guest on my show.
Wade pitched for the Dodgers and Yankees, and had his best season with New York in 2011, going 6-1 with a 2.04 ERA. He had bounced between the minor league affiliates of Toronto, the Cubs, Tampa Bay, and the Mets when we had this conversation, and was about to report to camp with Kansas City. He would be released by the Royals on April 23, which effectively ended his Major League career.
Doesn't matter. Anyone who makes it that far has a story, and Wade tells his well.
First aired 2014
---
Tagged with:
Broad Ripple High School
,
Cory Wade
,
Major League Baseball pitcher