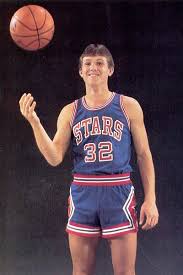 He became a legend in the eighth grade, thanks to Bob Knight's overzealous affection and a bestselling book. That alone guaranteed Bailey a unique place in the state's sports history.
He was unwittingly featured in A Season on the Brink, John Feinstein's book on the 1985-86 basketball season. Knight already considered him better than any guard on IU's roster at the time, including future All-American and NBA player Steve Alford. Knight had a tendency toward hyperbole, but not everyone understood that. The expectations for Bailey skyrocketed, and only became bigger when he led his high school team to a state championship as a senior. The final game was played in the RCA Dome before 41,000 people and a national television audience – all because of him.
Bailey's career at IU didn't quite live up to expectations, but that would have been nearly impossible. It actually was better than a lot of people realize. He was a second-round draft pick of the Pacers, and got to spend a season with the team while recovering from knee surgery he probably should have had in college, but he never made their regular season roster. He tried the CBA for several years before giving up on basketball and entering the business world.
This conversation was conducted over the telephone. I thought I had enough for two episodes, but was a little short. Looking back, he deserved two. I had only met Bailey two or three times, most memorably when I went to his high school to talk to him after his summer day camp. I was impressed with his hands-on approach and concern for the kids. My lasting memory is that he was sticking around to make sure everyone had a ride home. He was running the camp, rather than dropping in to make an appearance.
I wanted to talk with him then because I was doing a story for the Indianapolis News (the now-defunct afternoon paper) on his popularity. It wound up running on the front page. Of the entire paper. I guess I shouldn't have been surprised, but I was. For that story, I talked to one lady from Zionsville who named her two children Damon and Bailey. She would be out with them in a store and be ready to go and call out, "Damon, Bailey, let's go!" And heads would turn.
That's how popular Damon Bailey was then. It wasn't fair to him, really, but he was regarded by many fans as a throwback to a fictional time that existed only in Disney movies and children's books. He was handsome, he was polite, and he was talented. As Steve Alford had done before him, he formed Damon Bailey Enterprises after his college career ended to cash in on his popularity. He played in barnstorming games, sold posters, T-shirts, hats and photographs and public appearances around the state, and people drove from miles around to meet him.
To his credit, he's kept a level head – better than many fans did, and Knight, too. He barely knew me when we had this conversation, but he was generous with his time and as honest as I had ever heard him speak about his experience at IU – which wasn't as joyful as he hoped it would be, but not one he regrets.
He's now the assistant women's coach at Butler. That tells me one of two things. He wasn't having as much success in the business world as he hoped, or his love for basketball is so pure he'll sacrifice to be part of it at any level.
First aired 2009
---
Tagged with:
A Season on the Brink
,
Bob Knight
,
Damon Bailey
,
Indiana basketball