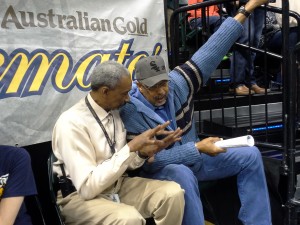 During his playing days with the Pacers, Hillman was regarded as a great leaper with a legendary Afro. But he's much more than that.
He's worked several years now for the Pacers in the front office. He sits at a cubicle like everyone else in the marketing department, grinding away every day. Not many former pro athletes can hold those kind of jobs. There's no glamor, not much excitement, and just middle-class pay. Hillman has done it, and done it gracefully. He's highly regarded around Bankers Life Fieldhouse for that reason.
He's valuable away from the office, too. One Sunday I was in the small town of Elwood, where my wife teaches, helping her move some things into her classroom. We drove by a park, and there was Hillman, conducting a clinic for the kids. Presumably, he didn't teach them how to dunk or grow an Afro.
That monstrous, well-groomed Afro has guaranteed Hillman an everlasting place in ABA folklore, as did his dunking. He won the NBA's first slam-dunk contest, but it was conducted in a different format than today and isn't officially recognized by the league. Hillman was a free agent at the time, so he didn't wear a Pacers jersey. He wore a T-shirt bearing the name of The Bottle Shoppe, a local liquor store still doing business on College Ave.
All in all, Hillman was a good player and a key member of two of the Pacers' championship teams. His best season came in 1974-75, when he averaged 13.9 points and 9.2 rebounds.
He visited the studio to tell some classic stories, including the one about the seaweed incident in San Diego. The photo above shows him at a Pacers game with another One on One alum, Mel Daniels. They don't jump like they once did, but then  they don't have to, so it doesn't matter.
First aired 2011
---
Tagged with:
ABA
,
Afro hairstyle
,
Darnell Hillman
,
Indiana Pacers
,
NBA slam dunk contest winner