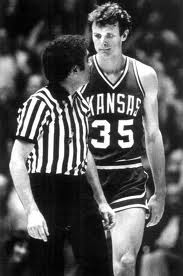 I had never talked with Indiana's Mr. Basketball from 1978 until our phone conversation to set up this phone conversation, but it turned out he had a far more interesting story than I would have guessed.
You'll like his stories regarding Bob Knight, who tried to recruit him out of his South Bend high school. He went to Kansas, where he met his future wife — a black woman, a daring thing to do at the time. He also had a memorable encounter with Knight in a game against Indiana at Madison Square Garden. He later played one season in the NBA. All this came after the tragedy of losing his mother while he was in high school.
Magley is now the commissioner of a new Canadian pro league, although he hadn't gotten around to that at the time we talked. He's not one of the more memorable Mr. Basketballs, because he went out of state to play in college and didn't have much of a pro career, but don't let that fool you. He's got a great story to tell.
First aired 2012
---
Tagged with:
David Magley
,
Indiana Mr. Basketball 1978
,
Kansas basketball