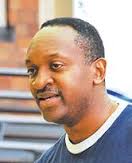 Brooks has had one of the more mysterious, uneven careers in basketball of anyone I've known. Aside from being an honor student and president of his junior and senior classes, he was the USA Today national high school player of the year – an honor that probably wasn't deserved, and might have done more harm than good. The man who picked the team, Dave Krider, lived in northern Indiana and might have showed a geographical bias.
Brooks was co-Mr. Basketball with Troy Lewis in 1984, and was awarded a tryout for the U.S. Olympic team that Bob Knight coached in 1984. He had already signed to go to IU at that point, and Knight had declared him the best player he had ever recruited. He lasted just a season-and-a-half, though, before realizing he wasn't a good fit for Knight's system, and transferred to Providence to play for Rick Pitino.
Two years later, he was playing in the same Final Four as Indiana in New Orleans, but didn't get to go up against his former teammates. Pitino got the most out of Brooks, but Brooks simply wasn't athletic enough to play in the NBA. He bounced around the minors for awhile, and then joined Pitino's coaching staff at Kentucky, where he helped recruit some of the players who were part of the national championship team in 1996.
But then it all went wrong. He took the head coaching position at Texas Pan-American, a nearly impossible challenge, and was fired after being accused of depositing a tournament appearance fee into his checking account. He lost his marriage, too, and returned to his home base in northern Indiana. He coached at various high schools, and is now a teacher in South Bend.
He appears to be doing well today, but nobody would have predicted his path back in high school, when he seemed the All-American boy destined for greatness.
First aired 2010
---
Tagged with:
Bob Knight
,
Delray Brooks
,
Indiana Mr. Basketball
,
IU basketball
,
Rick Pitino
,
Troy Lewis