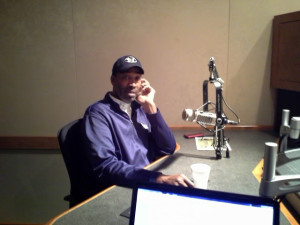 He's the quiet type. I covered him for five of his seasons with the Pacers, and never really got to know him. He became much more talkative after he retired, and always made for interesting conversation. Part of his motivation for this studio conversation was to promote his upcoming basketball camp, but he was willing to discuss everything else, too.
Most fans don't realize how good McKey was when he entered the NBA. Check out the YouTube highlights that aired when he was drafted — ahead of Reggie Miller, by the way — in 1987. He wasn't really healthy when he came to the Pacers in a trade for Detlef Schrempf, and it only got worse from there. One could make a good argument that the Pacers would have won the NBA championship in 1998 if he had been healthier. He played, but was limited. Perhaps he could have held Michael Jordan to a few less points in Game 7 had he been healthier.
McKey never scored enough to suit fans – or coach Larry Brown – but he's the second-best defender the Pacers have ever had, behind Ron Artest. And Artest gets the nod simply because he was so much stronger and healthier when he played for the Pacers. McKey also was the perfect behind-the-scenes type who did the dirty work. Remember, he was the guy who inbounded the ball to Rik Smits for his famous game-winning shot against Orlando in the playoffs, as well as to Reggie Miller for his famous game-winning shot against Chicago in the playoffs. Coaches always seemed to make a point of having him on the court at the end of a close game, whether he had started or not.
More than likely, this will be the longest conversation you've ever heard from him. It will be worth your time. He's always interesting with whom to talk basketball. He's a good guy, too. When Rob Hummel was sitting out a season at Purdue with a knee injury, McKey followed me up to Mackey Arena one day to watch practice and talk with him awhile.
First aired 2014
---
Tagged with:
1987 NBA draft
,
Derrick McKey
,
Indiana Pacers