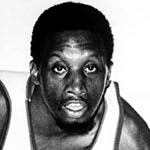 I wish I could have done this one in person, but that was impossible. I had never met Barnett, and our phone connection didn't seem the greatest, but the inconvenience was worth it to tell the story.
He was on the Gary Roosevelt team that lost to Oscar Robertson's Attucks team for the state championship in 1955. Somehow, he wasn't named to the All-Star team for the series with Kentucky and had to go to Tennessee A&I (now Tennessee State) to play college ball. He played for the champion Cleveland Pipers of the ABL and later for the New York Knicks' championship teams in 1970 and '73.
He's best remembered for his "Fall Back Baby" jump shot, in which he kicked his legs back as he released the ball. He should, however, be best remembered for getting a PhD in Education from Fordham and teaching Sports Management at St. John's.
He's not that well-known to most Indiana basketball fans, but should be.
First aired 2013
---
Tagged with:
Cleveland Pipers
,
Dick Barnett
,
Fall Back Baby
,
Gary Roosevelt High School