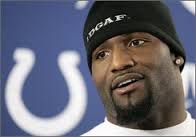 The Super Bowl star was out of football when we had this telephone conversation, hoping to get back in. He didn't, at least in the NFL.
He's got a great story, coming from a challenging background in Texas and emerging from Midwestern State as an undrafted free agent. He caught on with the Colts in 2001, and got a break when Edgerrin James injured his knee. Rhodes took over as the primary running back the rest of the season, and set an NFL record for most years (1,104) for an undrafted player despite starting only nine games.
A lot of people thought Rhodes deserved to be named MVP of the Super Bowl in 2007 after he gained 113 yards in the Colts' win over Chicago, but Peyton Manning got that honor. Rhodes went on to have a checkered career from that point forward. He cashed in on his Super Bowl performance by signing a two-year contract with Oakland, but was suspended for violating the NFL's substance abuse policy. He played briefly for the Raiders, returned to the Colts for awhile, and then played for two teams in the United Football League.
Through it all, he remained as likeable as anyone who's ever played for the Colts. I've found that to be true with athletes. Many of those who get into minor scrapes, such as Ron Artest and Stephen Jackson, are the nicest, most generous people you'll ever meet.  Rhodes seems cut from the same cloth.
First aired 2012
---
Tagged with:
Dominic Rhodes
,
Indianapolis Colts
,
NFL running back