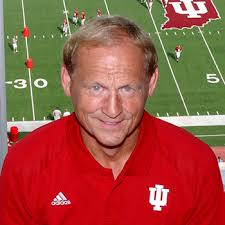 I knew I wanted Fischer for a guest as soon as I began the show, because a year earlier, before IU's game at Northwestern, he had told me about his start in broadcasting.
It's a classic story, although not all that untypical in the profession. After his exceptionally humble beginning in 1968, however, Fischer improved to the point he landed a job as IU's radio play-by-play announcer for football and basketball games. I'm not sure if he enjoys roller coaster rides, but he's been on one for most of his 40-plus years there: losing seasons most falls, winning seasons most winters.
Fischer called all three of IU's NCAA championships under Bob Knight, which helped make him a vital part of the program in the ears of most fans. His weekly radio talk shows with Knight also became legendary, and the source of a book's worth of great stories. He'll tell a few here.
I talked with Fischer in the studio. As you can imagine, talking to a professional talker isn't difficult.
First aired 2009
---
Tagged with:
Bob Knight Show
,
Don Fischer
,
Indiana University radio play-by-play