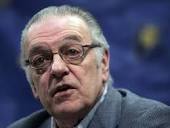 As I confess at the beginning of this episode, this was Take Two. I had recorded a show with Walsh over the telephone about a month earlier, but it was somehow lost in the computer system at the station. I don't know how. But yeah, it was probably my fault.
I called Walsh – who was running the Knicks at the time – to apologize. I wanted to record the show again, but said I wouldn't blame him for saying no. True to form, he agreed to do it. He took time out from his schedule to talk from his office on a weekday afternoon. Both times, in fact.
It's hard to say which show was better. Probably the first one, because that's the way it usually goes. It's like when your computer eats something you've written. It never seems as good the second time around. But I could be wrong. This one is plenty good enough.
I've probably talked with Walsh more often than any person I've met as a sports journalist. I covered the Pacers for 12 seasons for the Indianapolis Star while he was the team president, and took advantage of his accessibility. Most people in his position aren't so willing to talk with the media aside from formal press gatherings, but Walsh nearly always returned my call if I couldn't get him on the first try. I could even call him at home, if necessary. The week in which Larry Bird was announced as the Pacers coach in May of 1997, I called Walsh at home every night to try to stay on top of the story. He never showed a hint of anger. That's rare.
Here's a story that illustrates his cooperative nature: I once called him on a Saturday afternoon during the off-season. Nobody answered, but it wasn't all that important so I didn't leave a message. When he returned home he saw on his Caller ID that I had called, so he called me back. That might not sound like a big deal, but again, it's a rare quality for a professional sports executive to even give out his home telephone number, not to mention return a call when a message hadn't been left.
And here's a story that illustrates his work ethic: I once called his office on a Friday in August at 6 p.m. That's the heart of the off-season, two months after the draft and a month before the start of training camp. I figured he would still be in his office, though, and he was.
I realize fans aren't likely to care about that, but they should. He's showing respect for them when he cooperates with the media. Fans want championships and Walsh didn't build a title team, but he had as good a run as a general manager/team president as anyone when all things are considered. He was a master trader, usually drafted well (most famously taking Reggie Miller instead of Steve Alford in 1987) and earned the respect of everyone in the NBA. I mean, everyone, including guys he traded away. I have yet to hear anyone who knows him say a bad word about him, even in private. If you listen to the conversation with those who played for the Pacers on this site, you're likely to hear praise for Walsh, usually unsolicited.
Walsh was uniquely qualified to be a general manager because he had been a major college player, had coached in college and the NBA, and was an attorney. He did the job as well as it's ever been done, and kept the small-market Pacers in contention for championships many times. If people in Indy don't appreciate him, people around the NBA do.
First aired 2010
---
Tagged with:
Donnie Walsh
,
Indiana Pacers president
,
New York Knicks president
,
North Carolina basketball