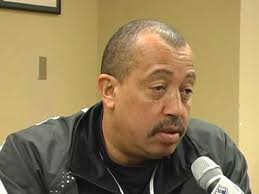 The North Central High School coach half-jokingly asked to do a show when I ran into him at the Indiana Basketball Hall of Fame golf outing in 2012, and I took him up on it. I had wanted to do one with a high school basketball coach, and he was as good a candidate as any.
He had an interesting and challenging childhood, and later faced the tragedy of losing his son in an automobile accident. But he soldiered on. He's one of the more respected coaches in the state, and his admirers include players I've talked with who played for him, such as Terone Johnson and Eric Gordon. And, believe me, he's not respected because he was easy on them.
Oh, yeah. He says he grew up in a haunted house. You'll hear about that and more from our conversation in the studio.
First aired 2012
---
Tagged with:
Doug Mitchell
,
Eric Gordon
,
North Central High School basketball
,
Terone Johnson