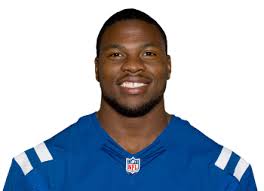 Guys like him are why you don't ever want to give up on troubled schoolkids. Sometimes they can be reached if you're patient enough. Allen can attest to that.
Growing up in a single-parent home, he was headed down some bad roads in school, being sent to the alternative school and all, but finally got his life on track with the help of a high school coach. He got a scholarship to Clemson, won the John Mackey Award as the nation's best tight end and achieved first-team All-America honors.
Still, he wasn't taken until the third round of the NFL draft because of the league's obsession with 40-yard dash times. He wasn't even the first tight end the Colts selected, going one round after the fleeter Coby Fleener.
When healthy, Allen is one of the better tight ends in the NFL. He's got one of the better stories, too, and tells it well. He had a headache when he came into the studio, but warmed to the task as we went along.
First aired 2013
---
Tagged with:
Dwayne Allen
,
Indianapolis Colts
,
John Mackey Award