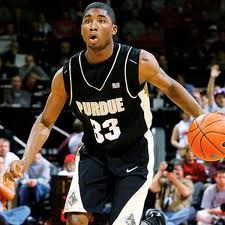 This conversation ran the week after the one with JaJuan Johnson, when both were seniors at Purdue. Moore is difficult to pin down, but I got him in the locker room before practice one day.
I seriously believe Moore is popular enough in East Chicago to be elected mayor. He comes from a dangerous neighborhood, but a strong family unit. His parents didn't attend college and have never made much money, but all three of their children have graduated from college and done well.
Moore was known around Purdue – affectionately – as a lone wolf. He kept to himself, but got along with everyone, and had substance to go with his style. He was an academic All-American one season, and worked hard to improve his game throughout his time there. He wasn't a leader because of his introverted nature, but was naturally cool and therefore admired by teammates — although some of them thought he got away with things on the court because of his quiet charisma. His nickname was Smoodge. Somehow, it fit.
He looks like he'll have a long career in the NBA, probably as a backup guard, but I doubt he'll ever stray far from his East Chicago roots.
First aired 2010
---
Tagged with:
Chicago Bulls
,
E'Twaun Moore
,
East Chicago
,
Indiana
,
Purdue basketball