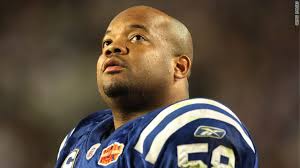 I had never met Brackett, but through his agent arranged to go to his home to conduct this conversation. It worked out beautifully. We sat at a table in his basement and talked about his unique story.
He was a walk-on at Rutgers and an undrafted Colt who became a team captain. That's enough to fill an hour there, but he also dealt with the loss of his father (a Vietnam veteran), mother and brother in a 16-month period. He's one of the most mature people you'd ever meet, which comes across in the conversation.
Brackett could have easily said no to my request, but he's an example of an athlete who wanted to do things beyond football (such as own a restaurant) and he understood the importance of putting himself before the public. He's been a fixture on some of the live local talk shows, too, and remains one of the most popular ex-Colts in Indianapolis.
This episode was updated and aired again in 2011, after he retired.
First aired 2009
---
Tagged with:
Gary Brackett
,
Indianapolis Colts