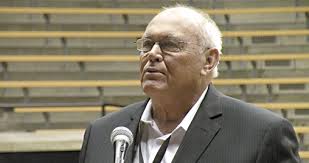 I know Keady better than most of the sports personalities I've met over the years. I covered his introductory press conference at Purdue, covered his teams for newspapers for more than a decade and spent an entire season with his team for a book project, Passion Play, with complete insider access, in 1987-88, when Purdue won the Big Ten.
Years later, while he was helping out Steve Lavin's teams at St. Johns, I spent two seasons with Purdue attempting to gather material for another book. I stayed in Keady's home in each one – two different homes, actually, because he downsized in the process. They were sitting empty and I paid rent, so it worked out well for both of us. I wound up helping him move, a rather bizarre moment for me, but something I was happy to do.
Keady's is a one-of-a-kind personality. I once wrote that he has a puppy dog's personality behind a game face that could pop a balloon. I stick with that. As I wrote in Passion Play, his players said it best: "he can chew your ass and make you like it." That really was one of the keys to his success. He could get on his players without turning them against him. That's not easy, and something that can't be taught.
In retirement, Keady seems more beloved than Bob Knight, with whom he had so many classic battles. Yes, Knight won three national championships, became college basketball's all-time winningest coach and was far more famous. Keady never reached a Final Four but might have something better today: a close relationship with his former university and widespread respect among its fans. He's welcome back at Purdue anytime and was able to stay in the game as a "consultant" for Lavin for as long as Lavin held the job. Meanwhile, Knight's broadcasting career petered out, his relationship with IU became fractured, and his connection with his former players doesn't seem as strong as Keady's.
Keady didn't do badly on the court, either. He won six Big Ten titles, including a couple with teams that were picked to finish eighth or ninth in the conference. He won several Coach of the Year honors, both nationally and in the Big Ten. And, he had a winning record in head-to-head competition with Knight.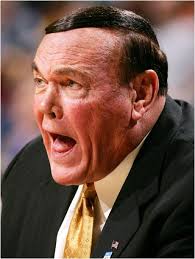 Not bad for a guy whose best and favorite sport had been football and didn't get a Division I head coaching job (at Western Kentucky) until he was 42.
We had this conversation in the living room of his house, before he began working with the St. John's staff. I had talked at length with Matt Painter at Mackey Arena earlier in the day and ran out of time on my recorder's digital card while I was talking with Keady. Rookie mistake. I barely had enough material for the show and had wanted to get a lot more. It turned out all right, though, despite the interruptions from his yapping miniature poodle that had to be edited out.
Looking back, I should have left them in. One of my everlasting images of Keady is riding with him to lunch back in the Eighties. He stopped to pick up his toy poodle, Queenie, at the dog beauty parlor. He was driving around sweet-talking this little manicured dog in his lap while smoking a cigar.
That pretty well sums up his dual nature. A tough guy with a soft heart.
First aired 2009
---
Tagged with:
Bob Knight
,
Gene Keady
,
Purdue University
,
Steve Lavin