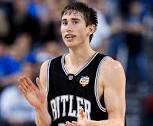 Just think if that shot had gone in. And you know which shot I'm talking about.
Hayward's fling from midcourt as the buzzer at Lucas Oil Stadium left Butler just short of a national championship in 2010, when it lost to Duke. It would have been nothing less than the greatest shot in the history of basketball had it gone in, giving an underdog team from a small school a national championship in its home city. It missed by just a few inches, an agonizing way to end a game and, for Hayward, a college career.
We talked about that shot, as well as the shot from the baseline that preceded it in this telephone conversation. He was already tired of talking about it by this point, but addressed it without blinking. This is probably the most detailed account you've ever heard of it.
That's only a fraction of his story, though. He was a late-blooming basketball player, one seemingly as skilled in tennis coming out of Brownsburg High School. But he kept growing, and the next thing you knew he was the ninth pick in the NBA draft after leaving Butler following his history almost-making shot. And now he has a max contract with Utah to help soothe any lingering frustrations.
Hayward's shot will go down in Indiana basketball lore despite the fact it didn't quite go in. It was that meaningful. And that close. What if it had gone in? Butler would still be trying to clean up the campus, calm the students and alums and get back to everyday life.
First aired 2011
---
Tagged with:
Butler basketball
,
Gordon Hayward
,
NCAA tournament championship
,
Utah Jazz