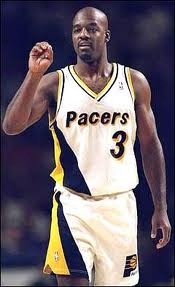 I always forget, is there an "e" at the end of his first name or not? There is? Got it.
I only covered the very end of Workman's career with the Pacers, which came when Larry Bird arrived as the coach in 1997. Workman was with the team in training camp then, but too injured to play and was soon released. He came back a year later to play for Milwaukee, and split his final season between the Bucks and Toronto.
Workman had been signed as an after-thought by the Pacers after nearly invisible seasons in Atlanta and Washington, but was a vital part of the Pacers' breakthrough seasons under Larry Brown. He started 52 games in 1993-94 when they reached the conference finals for the first time, and 14 the following season, when they did it again.
He was the classic overachiever — a workman-like player if you will —  who survived for six seasons, or portions thereof, with effort and toughness. He also was a great locker room guy who kept a sense of humor about himself, but never backed down. That's still true today while he works as an NBA referee. He tells coaches who complain about calls to give him a 10-day contract if they don't like his officiating.
Listening to this conversation, you can understand why he was welcome on every team. Keep an ear out for his memory of his encounter with Larry Bird, when he played for the Pacers and Bird was still with Boston.
First aired 2013
---
Tagged with:
Haywoode Workman
,
Indiana Pacers
,
NBA referee