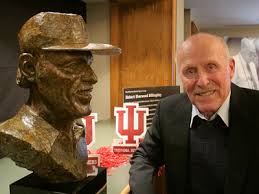 He's one of the greatest diving coaches of all-time, and one of the great characters, too.
His childhood story is amazing, as was his career. It was one of the most difficult shows to record and edit, because he talked. And talked. Let's just say he didn't talk in sound bites. I had plans to step outside the studio and donate blood in a mobile unit on The Circle after we recorded, but we talked so long I missed the cutoff time. Somewhere, a pint of blood is missing in Indianapolis.
It was worth the effort, though, to get the untold story of a great coach.
First aired 2012
---
Tagged with:
Hobie Billingsley
,
Indiana University diving coach