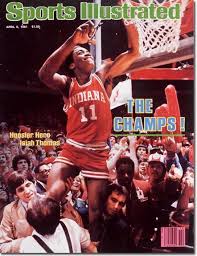 Of all the conversations recorded, this is the one I'd most like to do over. Thomas was gracious enough to talk with me for nearly two hours from his cell phone late one evening from a hotel conference room in Miami. For some reason that made it more difficult for me to address the more difficult issues of his post-playing career. Certain matters are best addressed face to face.
Still, there's plenty to talk about. His upbringing in the Chicago ghetto, where his mother kept the gangs away, is the stuff of movies. And, in fact, it's been made into a TV movie – A Mother's Courage: The Mary Thomas Story. Knowing where he came from, his success is all the more impressive. He has always had a "chosen one" quality about him, that seventh son of a seventh son thing.
He's been involved in many controversies since leading the Hoosiers to the 1981 national championship and entering the NBA draft, some of which I witnessed, some of which I only heard about. I can only say that I got along with him fine when I covered him for the Star during the three seasons he coached the Pacers. He didn't lie to me, he didn't try to manipulate, and he was accessible. That's all you can ask. And while there's plenty to question about his coaching and administrating in New York, I thought he did well with the Pacers. His young teams did not underachieve and he was the All-Star coach his third season.
He also deserves great credit for the work he's done trying to curb gang violence in Chicago in recent years.
Two hours only skims the surface of his story, but it's at least a start.
First aired 2013
---
Tagged with:
Indiana Pacers coach
,
Indiana University basketball
,
Isiah Thomas
,
New York Knicks coach