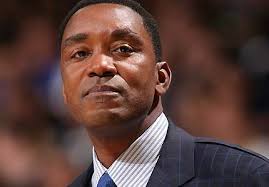 The second half of the conversation with Thomas focuses on his coaching stint with the Pacers — which was better than most people believe — his controversial firing by Larry Bird and all that's happened since then.
Contrary to what some have reported, Bird did not come in with the plan to fire Thomas. Donnie Walsh, who handed over the GM position to Bird, recommended keeping Thomas for the fourth season on his contract, and Bird planned to go along. Differences emerged as time passed, though. The story I heard was that Thomas was not communicating with Bird well enough. Rick Carlisle being fired by the Detroit Pistons also contributed to the change, as Bird  and Carlisle had a long-term relationship and were comfortable with one another.
It probably was for the best. Bird and Thomas do not mesh well as personalities. That's not to say one is right and the other wrong, they're just different. I remember when a press conference was conducted in the Fieldhouse lobby for Jermaine O'Neal after signed his max contract with the Pacers. Bird and Thomas appeared together that day, and it seemed uncomfortable for both of them. Thomas, in fact, seemed a bit intimidated, an unusual mode for him.
First aired 2013
---
Tagged with:
Indiana Pacers coach
,
Isiah Thomas
,
Larry Bird
,
Naismith Hall of Fame