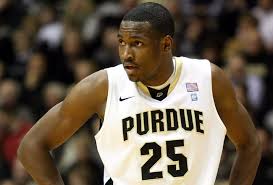 I spent the season with Purdue's basketball team during Johnson's senior year, and we conducted this conversation in a meeting room at Mackey Arena while it was undergoing renovations.
Johnson's game had undergone some serious renovations, too. He played on the B team in junior high school, and wasn't highly regarded in high school until his senior season at Franklin Central. By then, Matt Painter had recognized his long-term potential and locked him up. Johnson needed time to develop at Purdue, but became the Big Ten's Most Valuable Player as a senior and received some recognition as a first-team All-American.
Johnson's mother worked two jobs, as a bus driver and school cafeteria worker, to support him. He, meanwhile, was bused to Franklin Central from his house near 38th St. in Indianapolis, but it worked out well because he got to play for a great high school coach, Mark James.
Johnson was a first-round draft pick by Boston, but would turn out to be a classic tweener for the NBA – too light to play center or power forward, but unable to defend well on the perimeter. At the very least, though, he should have a long and lucrative career overseas.
The show reran in June of 2011, before the draft.
First aired 2010
---
Tagged with:
Big Ten Player of the Year 2010
,
JaJuan Johnson
,
Purdue basketball