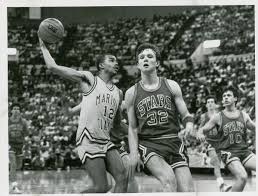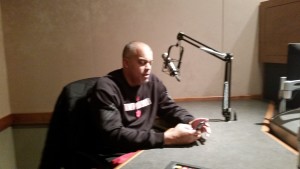 This double episode was about five years in the making. Seriously.
I first contacted Edwards when he was living and working in Mississippi. I had never met him, other than a brief conversation at the NBA's pre-draft camp in Chicago in 1989, but he agreed to record a show with me. When I called him at the appointed time, though, at 6 p.m. on a Sunday evening, he didn't answer. I talked to him again later, and we set up another time for me to call. Again, no answer.
We had an off-and-on long distance relationship after that. I'd call occasionally, and he'd admit he was reluctant to talk but would do so eventually. He called me out of the blue a few times, too, for various reasons. He eventually moved back to Indiana, by which time I had gotten to know him better and was glad we had never recorded anything over the telephone. This one needed to be done in person.
We finally got it done in December of 2014, and it aired in January. It was worth the wait. Edwards had never told his story in full. To my knowledge, no newspaper had ever published a full-blown feature story, and he was on the move so often throughout his professional career it would have been difficult to track him down anyway.
It's a sad tale in many ways, a promising player cheating himself by making some poor off-court decisions. But there's a lot more to it than that, as you'll hear here.
Edwards has a unique place in the state's basketball history. He was the biggest star on the Marion teams that won three state championships, the Big Ten Freshman of the Year at IU in 1988, then an All-American and Big Ten Player of the Year as a sophomore. He left for the NBA too early, he realizes now, but it's hard to blame him. It seemed as if he was ready, and his family needed financial help.
Injuries and substance abuse caught up with him, and he floundered for about a decade. But he's getting it back together now, with help from his former Marion teammate Lyndon Jones. These episodes inspired more exposure for him. I helped set him up for a Hoosier Legends episode on television, and the Indianapolis Star later ran a large feature. Edwards remains a compelling figure, with a story worth telling. Hopefully he adds a happy ending to it.
First aired 2015
---
Tagged with:
Big Ten Freshman of the Year
,
Big Ten Player of the Year 1989
,
Indiana University
,
Jay Edwards
,
Marion High School state basketball champions