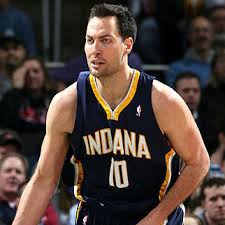 He stopped by the studio during his second-to-last season with the Pacers, when his career was winding down because of back problems. He earned those back problems, though, with physical play over 13 seasons.
Although he was a regular starter in just one of those seasons – the best one in franchise history, it turned out – Foster ranks fourth on the Pacers' all-time list in games played, third in rebounds and second in offensive rebounds. He played a bruising game – "Jeff will hurt you," Isiah Thomas used to say – and was a solid post defender. He usually fared well against Tim Duncan, and some of the other centers.
He was not a shooter, but it seems he could have been. He was brought in for two pre-draft workouts in 1999 and shot well both times. The Pacers, who traded up to get him with the 21st pick, were thinking they were getting a tough, athletic 6-11 forward who could drain mid-range jump shots. He lost confidence in that shot early in his career, though, and quickly devolved into a non-shooter. He hit 61 percent of his foul shots and 13 percent of his three-pointers. He did, however, hit his one and only three-point attempt in the 2011-12 season, when he played 11 games before retiring before it ended.
Pacers fans don't care about that, though. They remember him as a good rebounder, defender and all-around guy. He was the classic "glue guy" who did the dirty work and made his teams better.
Coming out of a small college such as Southwest Texas State, it's no wonder he has a good story to tell.
First aired 2011
---
Tagged with:
Indiana Pacers
,
Jeff Foster
,
Southwest Texas State