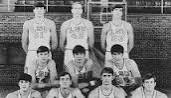 You might think being Rick Mount's high school teammate and Pete Maravich's college teammate wouldn't allow many scoring opportunities. And you'd be right, for the most part. But Tribbett doesn't complain.
He's got such a unique place in history, playing with two of the most legendary scorers of all time, that I had to talk with him. We met at a bank office in Lebanon, where he grew up and still lives. He and Mount aren't close, going their separate ways, but that's life.
It wasn't easy to find a photo of him, by the way. He's in the front row, second from the left, in the team photo.
First aired 2012
---
Tagged with:
Jeff Tribbett
,
Lebanon High School
,
LSU basketball
,
Pete Maravich
,
Rick Mount