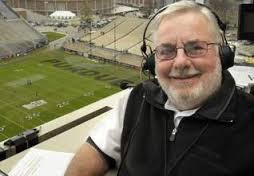 Joe has done more in broadcasting than most, calling games for a long list of professional and college teams.
He started humbly at Franklin College, then moved to Lafayette. He even worked as Purdue's assistant sports information director for a couple of years, but kept working his way to the top of the broadcasting ladder He's worked games for the ABA Pacers (calling their 1973 championship) and a variety of NFL, NBA and MLB teams. He finished his career calling Purdue football games before retiring in 2009.
He was the AP/UPI national Sportscaster of the Year five times, as well as the Indiana sportscaster of the year and the Illinois sportscaster of the year. One could argue he's the most accomplished broadcaster in the state's history.
I talked with Joe over the telephone, and then went to his home on Indy's south side to take reel-to-reel tapes he had on the Pacers' Game 7 championship victory and of the "Lasers" football broadcast. He had created a fake Indianapolis NFL expansion team in the Seventies and went to a lot of trouble to put together a realistic broadcast. Wouldn't happen today, for several reasons.
Guys like Joe have a lot of stories, and set an example for aspiring broadcasters because of the humble path they have traveled.
Joe also unwittingly provided a motto for my show. He said a friend of his had been leery of listening to an hour-long conversation with one person, but wound up being impressed with how quickly the time passed. From that point on, the show became "the fastest hour in radio."
First aired 2009
---
Tagged with:
Chicago Bears football
,
Indiana Pacers radio
,
Indianapolis Colts
,
Joe McConnell
,
Purdue football