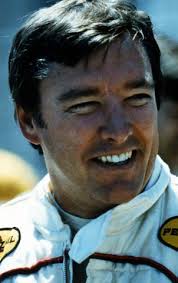 Lone Star J.R. tended to make it look easy, but he earned every one of his three Indianapolis 500 victories after coming up the hard way.
He competed in nine Indy 500s, and missed another with serious injuries, before breaking through and winning in 1974.  He won again in 1976 and '80, the last in the iconic "Yellow Submarine" Pennzoil special. That '80  race was the second I covered, and as we recall here I happened to be standing by his car before the drivers pulled away. A ladybug happened to land on his arm, and a ladybug happened to be his good-luck charm. How could he lose?
Rutherford gradually faded from the scene from that point, as tends to happen at the Speedway. He drove in seven more races, with three top-ten finishes. His last race came in 1988, when he started 30th and finished 22nd. By that time he was working part-time as a broadcast analyst, a talent that came naturally for him. He tried three more times over the next four years, but failed to qualify, and retired after he couldn't get a ride in 1994.
That doesn't tarnish all the success, though. He competed in 24 Indy 500s and won in sprint cars and stock cars as well. Beyond the track, he did everything from visit the White House several times to direct the Indianapolis Symphony, putting a sophisticated face on his sport.
He didn't know me from a fan in the third turn when I called and asked if he would record a show with me. He agreed to meet me in the Speedway infield where the drivers and ex-drivers park their RVs. I didn't know where to go exactly, but soon after  parking heard a tapping on my passenger door window. It was Rutherford, umbrella in hand, ready to head downtown for the conversation.
I'll have to admit, you feel a little pressure driving a three-time Indy 500 winner around. It's not a good time to screw up behind the wheel.
First aired 2010
---
Tagged with:
Johnny Rutherford
,
Lone Star JR
,
three-time Indianapolis 500 winner