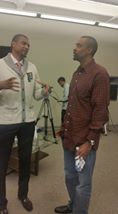 He fooled people. He was so quiet and so oft-injured, during his so-brief playing career with the Pacers people assumed he wasn't very smart or motivated. Turns out they were wrong.
Bender is one of the NBA's all-time what-could-have-been stories. Donnie Walsh rather amazingly traded a backup power forward, Antonio Davis, for the fifth pick in the draft in 1999, and took Bender. He was a 6-11 exclamation point at the time, a high school kid who had scored 31 points in the McDonald's All-American game to break Michael Jordan's scoring record. He had a vertical jump of nearly 40 inches and unlimited shooting range. But there were questions about him, too. He just 18 years old, ultra-skinny and (unknown to the Pacers) had bad knees.
He eventually grew another inch, but that was a rare bit of good luck in his career. He broke his hand in a preseason game as a rookie, but eventually seemed to step foot on a path toward stardom. He played 78 games in the 2001-02 season, his third, and showed enticing potential. He averaged 7.4 points, shot 36 percent from the three-point line and hit 77 percent of his foul shots. His game still needed refinement, but he was coming. I recall certain highlight moments, such as when he took one dribble from the three-point line and dunked, or got the ball so high above the rim that your jaw plunged.
He signed a four-year, $28 million contract extension during that season, but his career faded from there as his knees gave out. He played 46 games the following season, then 21, then seven, then two in 2005-06. He blamed his knee problems on his rambunctious days as a kid in the neighborhood in Picayune, Miss., when summertime fun included jumping off the roofs of houses.
Bender has dabbled in several business and charitable activities since leaving basketball. Most notably, he invented a device that helps restore mobility, one he used to return to the NBA in 2009 with the Knicks. He played just 25 more games before a non-knee injury forced him back to the sidelines and then retired, satisfied that he had proven his point.
He's found his greatest success in business with an invention that enabled his comeback – the JBIT MedPro. It's a simple but clever contraption that takes stress off the knees and strengthens the surrounding muscles. Google it sometime. He's devoted to it, and here's an example: during Rob Hummel's final season at Purdue, Bender drove from Indianapolis to Mackey Arena on a Sunday afternoon to show it to him, put him through a workout and then gave one to him. Hummel didn't follow up on it – he was being bombarded with advice on how to help his twice-surgically repaired knee at the time – but I was impressed with Bender's willingness to try to help.
He's taken some hits in the business world, as all entrepreneurs do, but he keeps going. He was in Indianapolis in August of 2015, for example, to  moderate an opportunity for people with young businesses to make a pitch for  funding. Fellow One on One alum Alan Henderson attended, hence the photo above.
First aired 2011
---
Tagged with:
1999 NBA draft
,
JBIT MedPro
,
Jonathan Bender