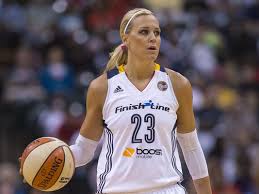 She overcame tragedy in high school, losing both parents to cancer within a three-year period, but she went on to become one of the greatest women's players in the state's history.
She was a member of Purdue's national championship team in 1999 as a sophomore, and an All-American the following two years. She was a five-time All-Star in the WNBA, and a member of the Indiana Fever's championship team in 2012, but was injured during the playoffs and did not play. That's sports for you, eh? Life, too. I talked with her in the locker room after the Fever clinched the title at Bankers Life Fieldhouse, and she was as happy as if she had played in the game. Hey, she's experienced greater disappointments.
We had this conversation in the studio, after I drove her over from the Fieldhouse. We had never met, but she made it easy.
First aired 2011
---
Tagged with:
Indiana Fever
,
Indiana Miss. Basketball
,
Katie Douglas
,
Purdue women's basketball